First-year
BHS

coach ready to tip off season Friday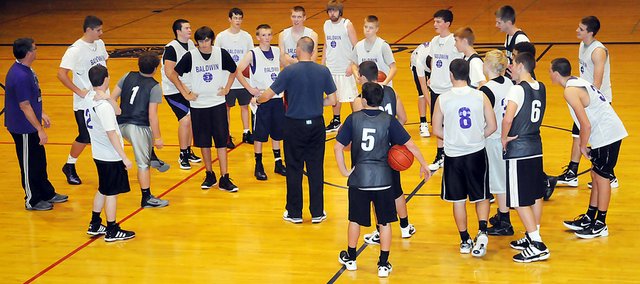 Dustin Leochner is the fifth coach of the Baldwin High School boys' basketball program since 2000 and he's excited to tip off the season Friday night at home.
His Bulldogs began practice Nov. 14, but come Friday, they will take the court for their first official contest. The Bulldogs will host Santa Fe Trail at 7:30 p.m. in the Baldwin Junior High School gym.
"I hope the town comes out to support the boys and girls to see what we've got this year," Leochner said. "Hopefully, we don't disappoint and hopefully we put out a performance that will bring them back."
The BHS players are also ready to tip off the winter sports season.
"We're really excited," senior Clayton Duncan said. "It's the first game and it's at home. It should be fun."
Sophomore Cornell Brown shared the same sentiment.
"I'm pretty pumped," Brown said. "I've been waiting a while now. I'm ready to get after it. I'm so pumped."
Leochner, who teaches at Free State High in Lawrence, said he should some support from his Firebirds' colleagues on Friday. However, he still has concerns about the opening game.
"I'm a little nervous," Leochner said. "I'm sure even veteran coaches go through the same thing, but as a first-year coach I hope I've planned for all of the possibilities. I'm not the type to get nervous well in advance, but I have concerns. I'm sure I will have butterflies when Friday evening arrives.
"Things are quite where we want them to be," he said. "Defensively, we feel like we're no where close to where we want to be yet. But the guys are picking things up and they're really focused. We can't fault the effort so far."
Other concerns include his knowledge of the Frontier League or the Bulldogs' opponents. Leochner, along with assistant coaches Mike Berg and Matt Green, haven't coached basketball in the Frontier League in more than a decade. Berg is the only one with experience as he coached the BHS girls team from 1998-2000.
"Our entire staff is new," Leochner said. "We don't know the league very well. We don't know much about the teams we are playing in the next couple of weeks."
Leochner is taking over the program after former coach Eric Toot resigned last spring. Toot coached the Bulldogs from 2006-2011. Some of the BHS players had concerns about learning from a new coach, but they've enjoyed Leochner and his philosophy.
"I was a little worried about coming in to a new system," Duncan said. "But coach Leochner has us playing well right now. I'm excited for the season. I really like it. It's nice to get out an run a bit. I'm enjoying it so far."
The BHS players have enjoyed learning from their new coach and getting to know him on the court.
"I have pretty good bond so far," Brown said. "He's a good coach and he understands the game."
Leochner said it's been the same for him as he's enjoyed the opportunity to be a head coach at BHS.
"Our guys understand what we are trying to do," Leochner said. "For the most part, they are doing it. They are picking most of it up really well. Our energy is great and we're really encouraged by what we've been seeing in practice."
Duncan and Brown look to be two of the starters Friday or at least in the top rotation. Joining them will most likely be sophomore Chad Berg, junior Caleb Gaylord and senior Alex Twombly. Coming off of the bench and contributing may include senior Britton Schroeder, senior Tucker Brown and a handful of sophomores.
"We have a lot of guys who are very similar style of players," Leochner said. "We're hoping Tucker can knock down some shots. We're going to need him to knock down some shots for us. If him and Chad can make some outside shots for us, that would be nice."
Baldwin will be without junior postman Dayton Valentine through December. He is recovering from an injury he suffered in the final football game of the fall.
Once BHS starts Friday, it will roll into a busy week. The Bulldogs travel to Louisburg on Monday and Tuesday for its annual round-robin tournament. They will play Chanute on Monday and Anderson County on Tuesday. The final game of the tournament will be played Dec. 9.
"Those five days are going to tell us a lot about our team," Leochner said. "We will learn a lot quickly."
All BHS teams will play Friday at home. The opening games will start at 4:30 p.m. with the varsity boys at 7:30 p.m.
"We're definitely ready to get out and get after someone else besides my teammates," Duncan said. "We're ready to start playing games."