Bulldog wrestlers prepare for difficult opener at
GEHS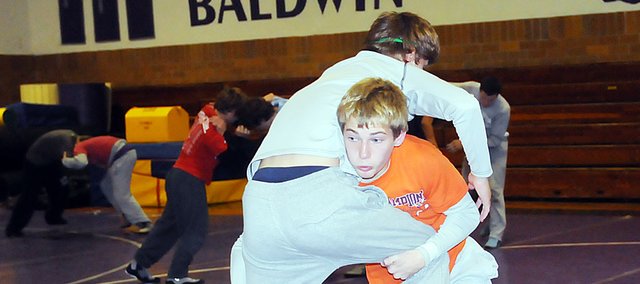 Baldwin High School's wrestlers will be facing some of its toughest competition of the season at its opening meet Saturday.
The Bulldogs will compete at the Gardner-Edgerton Invitational, beginning at 9 a.m. Saturday. It will kick start their season, but it may also have the hardest level of competition of any meet, including the state tournament.
"It's going to be a very tough tournament," coach Kit Harris said. "They've added two nationally-ranked Iowa teams. They both have four or five Division I signees and there will be many state champions and Fargo All-Americans there, too. We're the smallest school there. Mostly it's big 4A schools with 5A, 6A and good teams from out of state. It will be an eye-opener.
"My top guys have been wrestling that caliber of wrestlers for a while," he said. "But some of our young guys are going to be introduced to that. It will be good for them. They just have to hang in there and battle."
One of those wrestlers is junior Bryce Shoemaker, who won a state title as a freshman. His weight class has five state champions included in it, making his opening meet extremely tough.
"I have some tough competition," Shoemaker said. "It will be a good test for me. It's probably the hardest meet of year for me. It will be tough, but I'm excited for it."
Shoemaker will have motivation on his side all season. He injured himself late in last year's season and was unable to compete at regionals or state, which ended his hope of winning back-to-back state titles.
"It's going to make me prove myself early," Shoemaker said. "Plus I didn't finish last year well, so this is a big test for me. Hopefully I can win a few matches Saturday."
The other Bulldog who has earned a state medal is senior Andrew Morgan, who finished third at state a year ago. Shoemaker and Morgan, along with sophomore Tucker Clark, senior Cody Sellers and senior Colton Bonner, should lead the Bulldogs this winter.
"They can all have a great year," Harris said. "I've told them that their record last year doesn't matter. Everyone one is 0-0 right now. Nobody cares what happened last year.
"Those seniors come into their year with a lot of excitement," he said. "They always want to make the most of their final season. It's exciting."
The rest of the Bulldogs' line up will consist of underclassmen, many of which could be freshman. Harris said his roster will constantly change, but he could start between five and seven freshman at any meet.
"Our team is looking pretty good," Shoemaker said. "It's early, but by the end we should be pretty solid. We're solid pretty much all the way through our lineup."
Baldwin will find out where it stands against top teams on Saturday. The meet begins at 9 a.m.
"I'm pretty excited, but also nervous," Shoemaker said. "It's always like that every year."