Berg nets Bulldogs only first-team Frontier League honor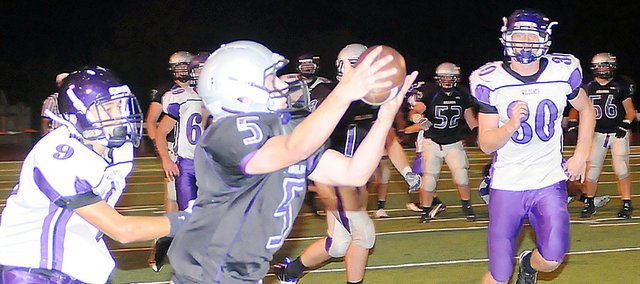 Chad Berg made history this fall.
The Baldwin High School football player became the first Bulldog under head coach Mike Berg's 13-year regime to be chosen as a first-team all-frontier league player as a sophomore. He was the Bulldogs' only selection to the first team, as Eudora and Paola players filled most of those spots.
"I've said this year, but individual success comes from team success," coach Berg said. "Eudora was in the state championship game and Paola played Eudora in the final four. They were the two best teams in the league and their kids are very deserving of the first-team honors. However, I thought we represented the second-team really well. We also had several honorable mention, too.
"If you think about it, 77 kids start on offense and 77 on defense in our league," he said. "They only honor 33 of them. So we had quite a few kids make the top 33 and our Frontier League is tough. It's a tough league."
C. Berg was the lone Bulldog to be chosen on the first-team. He rushed for slightly more than 1,000 yards on 115 carries. His yards-per-carry average was tops in the league, which featured stars like Garrett Griffin (Louisburg), Chris Pyle (Eudora) and other running backs.
"He'd be the first one to tell you he had a great offensive line in front of him," Berg said. "Our offense is geared to a lot of misdirection and he had the speed to get around the corner. We'd fake it to Jake or Cornell and that helped Chad get most of his hards. The stat that was most impressive is he led the league in yards per carry. He averaged 9.05 yards per carry. I think that got him the first-team vote, because he didn't have nearly the yards of some of the other kids."
Berg was also one of six Bulldogs to make the second-team. He was on there as a defensive back, along with senior Alex Twomlby. Also on the defensive second-team were senior John McCall as a defensive end and sophomore Colton Stark as a linebacker.
On the offensive second-team were senior Colton Bonner as a lineman and junior Dayton Valentine as a tight end.
Earning honorable mention recognition on offense were junior Austin Chavez (center), McCall (lineman), sophomore Cornell Brown (running back), Clayton Duncan (offensive all-around player) and senior Will Simmons (punter). On defense, Bonner (lineman), Valentine (lineman), Simmons (linebacker), Duncan (linebacker) and junior Austin Kraus (kicker).
"I'm proud of our whole team and their accomplishments," coach Berg said. "This is icing on the cake for them. Our seniors led us this year and they are well deserving of their honors. After being in the program for four years, I'm glad to see they get honored for that.
"It's really cool," he said of his special teams players. "Will was leading the league in punt average at one time, but it fell to 36 yards per punt. He was close to being a first-teamer. Austin had 85 percent of his kicks in. He wasn't quite first-team, but his goal is to be first-team next year."