Baker University to present 81st Candlelight Vespers at 4 p.m., 7:30 p.m. Sunday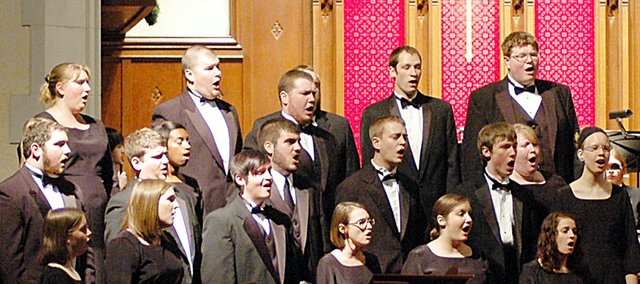 Baker University's Department of Music is helping the Baldwin City community get in the holiday spirit with its 81st Annual Candlelight Vespers.
Vespers, which will take place at 4 p.m. and 7:30 p.m. Sunday at First United Methodist Church, will include performances from Baker's concert choir, chamber choir, orchestra, percussion ensemble, brass ensemble, speech choir, the Little Big Band Jazz Ensemble, the Buel A. Hill String Quartet and the University Community Choir.
Matthew Potterton, Baker University's director of choral activities, came to Baker two years ago. Although he has only been with Baker for a short time, he understands the importance of showcasing Baker's music department to the residents of Baldwin City.
"I look at (Vespers) as a gift to the community to show what Baker has to offer," Potterton said. "We have a huge amount of people participating. I think it is great that we showcase to the community."
Potterton said he tries to keep the concert exciting by choosing pieces that are upbeat and slow, as well as representative of many different eras.
"I try to find good music that I think both the audience will enjoy but it also is quality literature," Potterton said. "We're starting the concert this year with an ancient chant and yet we're also going to premiere a brand new work by a local composer Mark Hayes."
To keep the concert fresh, Potterton tries to incorporate new ideas into the concert without taking away too much of Baker's tradition.
For the past two years he has added an African piece involving the percussion ensemble and choirs. This year, choreography was added to the piece too.
"What I try to create is a program that overall is great," Potterton said. "It is the finished product that I am proud of and this year it is going to be one of our greatest ones."
Potterton said choosing the music for Vespers is much like choosing the music for any other concert he directs.
"I sit down with a stack of music and start piecing together like a puzzle. I choose one piece that I really want to do and I see what other pieces will compliment that one and I just build from there," Potterton said.
Potterton said the piece he chose early on for the concert was "Sounds of the Season," the original piece by Hayes.
The ultimate goal of the concert is to unite the Baldwin City and Baker University communities for the holidays and to show them the talent surrounding Baker's music department.
"I hope people leave (Vespers) in the holiday spirit and proud of being a part of this community and proud of what Baker has to offer," Potterton said.
Editor's note: The story was updated to correct the times of this year's performances.