Wildcats enter season No. 23 in
NAIA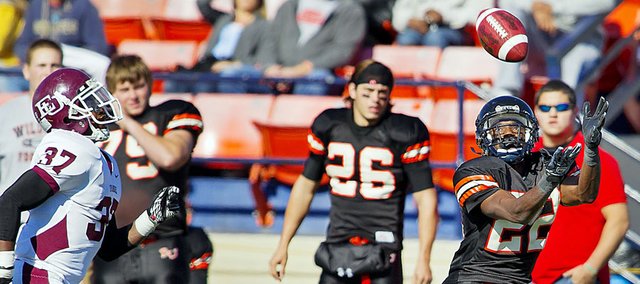 Four consecutive winning seasons and a No. 23 national ranking have Baker University primed for a run at the Heart of America Athletic Conference championship and postseason playoff berth.
The Wildcats, 22-11 in the past three seasons, open 2011 on Aug. 27 against No. 10 Ottawa at the Victory Sports Network First Down Classic. Kickoff is 7 p.m. at Liston Stadium.
"We are proud of our accomplishments and national rankings in the past four years, but we need to take another step in the development of our program," said Wildcat head coach Mike Grossner, entering his eighth season guiding the Wildcats. "We need to get back to that stage and take a shot at a national playoff run. Our kids are capable of accomplishing these goals. We have kept our staff intact, which leads to consistency in all areas."
Several underclassmen gained valuable starting experience on offense for the Wildcats' during the 7-4 season in 2010. Heading into the opener, no seniors are pegged as full-time starters on offense, Grossner said.
"I'm not a big believer in how old you are," Grossner said. "I'm more concerned about whether you can play or not."
Sophomore Jake Morse returns at quarterback after completing 99 of 169 passes for 1,307 yards with nine touchdowns. Junior Sam Vossen and newcomers Caleb Lee and Jake Heller will provide depth at the position.
"I like our chemistry at quarterback," Grossner said.
Baker's top three running backs last fall combined for 1,509 yards and 17 touchdowns. Sophomore Scott Meyer (156 carries, 656 yards, nine TDs), sophomore Aaron Terrill (104 carries, 469 yards, five TDs) and senior John Babb (73 carries, 384 yards, three TDs) shared the rushing load in 2010 and are back this season.
"We needed all three running backs last year to get through the tough HAAC schedule," Grossner said. "All three guys bring a little different style to the table, and we expect them all to contribute. Production is the key."
Junior Jake Green (28 receptions for 460 yards, one TD in 2010) and sophomore Xavier Lewis (20 catches, 282 yards, two TDs) are Baker's primary receivers. Green was the team's offensive most valuable player last fall.
"We feel really good at the receiver position," Grossner said. "Xavier is exciting whenever he touches the ball. We have a lot of other guys and new players who could have a big impact at this position. It's time for a guy like junior Kyle Bolton to have a breakout year."
Juniors Jordan Robertson and Aaron Rieschick anchor the offensive line after starting two years.
"Both are tough guys," Grossner said. "We feel we signed our best young group of linemen, and I expect some of them to contribute early."
Defensively, Baker is led by senior linebacker Adam Steele. The hard-hitting defender recorded 99 tackles to rank second on the team last fall.
Linebacker Ryder Werts and defensive back Bradon Hill are back after red-shirting last fall. In 2009, Werts had 49 tackles and Hill had 38 tackles and two interceptions.
"They were two of our best players in 2009," Grossner said. "It's good to have them back on the field."
Senior defensive back Madison Morris is another key contributor, recording 41 tackles with three interceptions a year ago.
"This could be a very special group," Grossner said of the defense. "We need some of our young guys that have great ability to step up and play within the scheme for our defense to excel."
Senior punter Garrett Chumley and senior long snapper Caleb Johnson lead Baker's special teams. Chumley, a second-team all-HAAC pick, averaged 40.3 yards a punt with a season-best 70-yarder in 2010. Newcomers Nick Wilson and Andrew Kimrey are challenging for place-kicking duties.
Baker's schedule has a new look with six home games. Longtime rival William Jewell and conference power Lindenwood are no longer in the HAAC. After the opener against Ottawa, Baker will play conference newcomer Peru (Neb.) State on Sept. 3.