Summer Bridge program prepares students for college life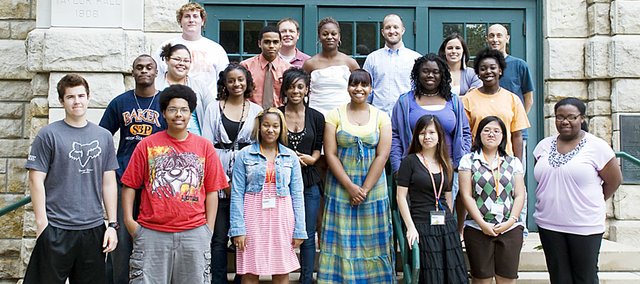 Developed in collaboration with the Kauffman Scholars, the five-week Summer Bridge Program had Baker University as a participant for the first time, better preparing recent high school graduates for the college life.
Sixteen students enrolled in the residential program, receiving six credit hours and academic support to jump-start their college experience. They all lived in the New Living Center on the Baldwin City program.
"We wanted to provide them an understanding of how to transition into college and be successful," said Carrie Coward Bucher, the program director. "They learned more about the dedication, how to manage their study hours at night and develop strong relationships with faculty and their peers.
Program participants received full-time support inside and outside the classroom from Baker faculty members and Baker students, who served as peer leaders. Faculty members Jake Bucher, Alan Grant, Eric Hays and Jean Johnson led courses in economics, sociology, math and English. College students John Babb, Jeremy Gathright, Beth Hopkins and Abby Reynolds shared advice on student life with the group.
On the final day of the program, the students paired up for presentations in front of the faculty and classmates. Topics researched and discussed were abortion, illegal immigration, hip-hop/female exploitation, health care, intersexuality, private and public schooling, death penalty and prostitution.
Coward Bucher was impressed by the transformation of the students in a month and the efforts of the Kauffman and university leadership teams.
"It was very rewarding experience and a wonderful partnership between the Kauffman Foundation and Baker University," she said. "Everybody worked well together to make sure this program in its first year was a success."