Students create mural for cafeteria entrance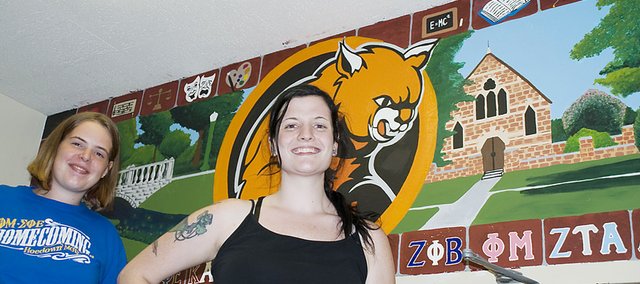 Visitors to Harter Union will be greeted by a new mural above the cafeteria entrance.
During the summer, Baker students Cate Richards and Lisa Smith painted the mural, capturing scenes from the university's academics, athletics and campus life. The two artists had completed painting I, II and III classes.
"I selected Cate and Lisa based on their experience and dedication as studio artists," said Jennifer Jarnot, art faculty member. "I was aware of their capabilities as painters, and their commitment to see a project through from beginning to end."
The mural is the latest in upgrades to the union and cafeteria. The Wildcat logo previously was above the entrance.
"The one component we wanted to keep was the mascot logo," Jarnot said. "We turned the rest of the design over to the students, and they came up with a beautiful scene that narrates the entire campus. They incorporated icons of our majors, sports and greek life as well as a full scene of the chapel and bridge on campus. They kept the mascot logo as the focal emphasis/central image."
The design process began last fall. Once the painting began, the students took nearly a month to complete the project.
So far, the artwork has received rave reviews.
"It's nice to see public art appreciated, and many people are asking for a mural to be created in their office or building as well," Jarnot said. "I am considering teaching a mural-painting class as an interterm or summer course offering, depending on the interest from our students and the rest of campus. These projects are very time consuming but the end result can be fabulous, and a student has an opportunity to create a work that will be viewed daily by hundreds of people for years to come."