Mulvane Hall to receive transformation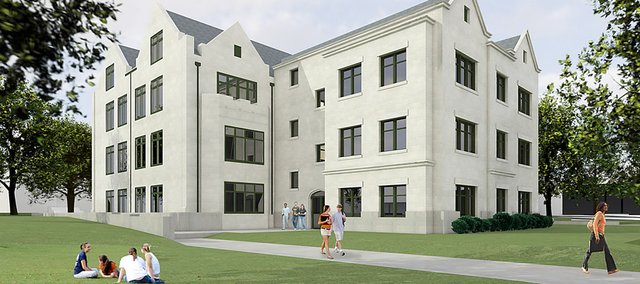 Baker University is pleased to announce that the J.E. and L.E. Mabee Foundation in Tulsa, Okla., has committed $750,000 toward the Mulvane Transformation Project on the Baldwin City campus.
The challenge grant is the largest gift Baker has received from a foundation and the fifth largest single gift to the university since its founding in 1858.
Throughout the year, Baker President Pat Long and the University Advancement staff will continue to raise the $750,000 needed to meet the foundation's challenge grant, as well as the remaining $3.2 million necessary for completion of the project.
"The Mabee Foundation challenge grant comes at a crucial time in our fundraising for the project," Long said. "We look forward to meeting that challenge over the next year through the generous support of Baker's alumni and friends. The Mabee Foundation has supported us for many years, and we are deeply grateful for their faithful partnership in helping Baker become an even more significant leader in providing education to our students."
The university intends to break ground this fall on a new addition to the science building on the Baldwin City campus as part of its $10.3 million Mulvane Transformation Project.
Constructed in the 1920s, Mulvane houses classrooms for biology, chemistry, mathematics, physics and information technology. The renovation and the 9,000-square-foot expansion to the east of the facility will provide new laboratory space, classrooms and student collaborative areas.
"The trustees recognized our extensive planning and preparation for this important upgrade to our sciences building," Long said. "Through tireless work for more than a decade, our faculty and administration have developed an inspiring building concept. The Mulvane Transformation Project is designed to capitalize on the synergy among our people, programs and space to address the interdisciplinary, collaborative direction science is taking."
Estimated costs for the project are $4.5 million to the existing science building and $4 million for the four-level expansion. An additional $1.8 million will cover furnishings, equipment and technology needs.
Baker faculty members have worked closely with architects, developing plans for the project.
"The design process has been an exciting challenge for the faculty as we worked to think not only about our current needs but also about the future," said Darcy Russell, professor of biology. "The completed science center will promote collaboration between students and faculty in flexible spaces that will serve our students, both now and in the future."
The J. E. and L. E. Mabee Foundation, Inc., a non-profit corporation, was formed in 1948 by Mr. John E. Mabee and his wife, Lottie E. Mabee. The purposes of the Foundation are to aid Christian religious organizations, charitable organizations, institutions of higher learning, hospitals and other organizations of a general charitable nature. 
For more on the project and ground-breaking information, contact Patrick Mikesic, senior director for university advancement, at Patrick.mikesic@bakerU.edu or (785) 594-8447.