Longtime business professor earns top honor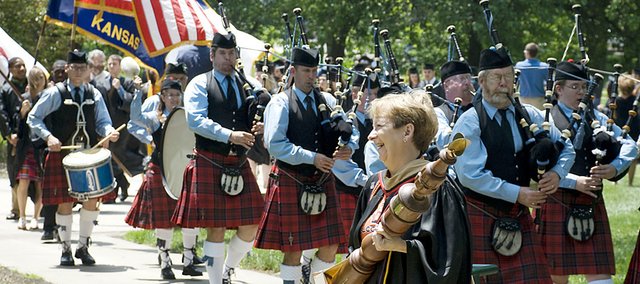 A member of Baker University's faculty for nearly three decades, Martha Harris is at home as a professor of business and economics, mentoring students as they prepare for professional careers.
"The thing I enjoy most is the opportunity to develop relationships with my students, to know them outside of the classroom and to watch them change from incoming young freshmen into graduates that are on their way into the work world and their adult lives," Harris said. "Besides the work with students, I enjoy the history and traditions of Baker, the connectedness to those that have been here before, as well as the ceremonies such as commencement."
Commencement in May was extremely special to Harris. During the ceremony at the Collins Center, Harris was recognized for her commitment to Baker students and honored with the Jennie Howell Kopke and Verda R. Kopke Award for Distinguished Teaching. The award recognizes a faculty member, without regard to rank or years of service, who has a record of excellence in teaching and in transforming students into scholars, who brings honor to the university and who exhibits good moral character. Recipients also receive a $5,000 cash award.
"It was a wonderful surprise and a tremendous honor to receive the Kopke award," Harris said. "I feel humbled to be included with the colleagues who have been recognized in this way, and would like to express my sincere thanks to Mr. Kopke for his generosity in creating this award for Baker's faculty."
This fall, Harris will teach the honors section of the Introduction to Business course and Accounting Information Systems for upper-level accounting students. She also will develop new study-abroad opportunities and provide support for the role study abroad will play in the new liberal studies program.
Studying abroad has been a passion of hers since she was a student at Baker in the late 1970s, inspired by Earl Kirk, the study abroad coordinator at that time.
"I had a real desire to study abroad in England and was interested in the Harlaxton program from the very beginning but did not give much thought to going until I was encouraged by Earl Kirk," Harris said. "I wasn't sure about taking my kids away from home for that length of time, but once I received my first appointment, we were all welcoming of the opportunities presented. I was more than happy to take a second trip in the fall 2001 term – a very interesting time that included the post 9-11 days and months viewed from a different perspective. Now as the Harlaxton program coordinator for our campus, I thoroughly enjoy this opportunity to help students prepare for their study abroad and stay in touch with this program that has had such an impact on my family."
Harris likes several aspects of the Harlaxton experience, especially the required course in British history and culture.
"Students come back with a changed view of the world and an openness to new opportunities and adventures that have a major impact on their lives from that time on," she said.
Before returning to her alma mater to teach in 1982, Harris worked three years with the Federal Deposit Insurance Corp.
"I enjoyed working as a bank examiner, but it did not really allow an opportunity for starting a family," Harris said. "Being a professor was a long-term goal, something I thought I might do later in my career. I got the opportunity to give it a try much earlier than I thought I would."
Harris joined the following stellar faculty members honored with the Kopke award: Karen Exon (1998), Anthony Brown (1999), Lee Green (2000), Rand Ziegler (2001), Inge Balch (2002), Darcy Russell (2003), Tracy Floreani (2004), John Richards (2005), Ryan Beasley (2006), J.D. Parr (2007), Cynthia Appl (2008), Cal Cink (2009) and Jacob Bucher (2010).