BU

runners look to defend conference championship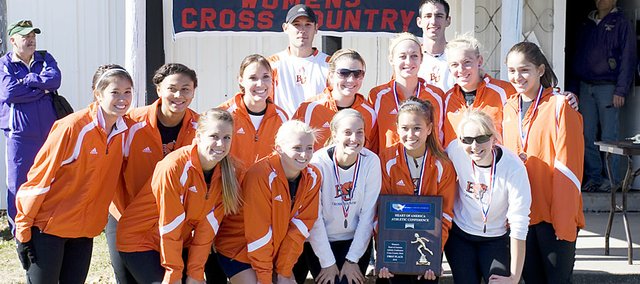 Women's cross country looks to defend 2010 HAAC Championship
With several runners back from the 2010 Heart of America Athletic Conference championship team, the Baker women's cross country team has lofty expectations this fall and the following year.
"The majority of our top five are sophomores and juniors," Wildcat head coach Zach Kindler said. "Our biggest competition William Jewell and Lindenwood are out of the conference. I think anything less of a HAAC Championship would be a letdown."
As a favorite entering the season, the Wildcats will look for leadership from sophomores Megan Rosa (Olathe, Kan.), Lauren Jaqua (Lansing, Kan.), and juniors Devin Freeman (Shawnee, Kan.) and Lindsey Brown (Overland Park, Kan.). Sophomores Ashley McBride (Olathe, Kan.) and Jenna Stanbrough (Emporia, Kan.) will most likely compete for the fifth spot.
"We've also got a few talented freshman coming in this year," Kindler added. "I think all around we will have some nice competition and we look forward to what the year brings us."
The Wildcats open the campaign on Sept. 3 at home at the Baldwin City Golf Course.
Men's cross country squad looks to challenge for HAAC title
Taking second last season to Graceland University in the Heart of America Athletic Conference didn't sit well with some the returners on this year's squad. With nearly a full squad returning, the team looks to be faster and stronger.
Senior Chris Scheideman (Wamego, Kan.) looks to lead the team while making a healthy return coming off knee surgery from last spring. According to coach Kindler, junior Aaron Caldwell (Overland Park, Kan.) will also contend for the top spot.
"Our ultimate goal is to be conference champs and qualify for nationals," Kindler said. "It should definitely be a realistic goal."
The Baker men open the season Sept. 3 at home at the Baldwin City Golf Course.