2010-2011 Year in Review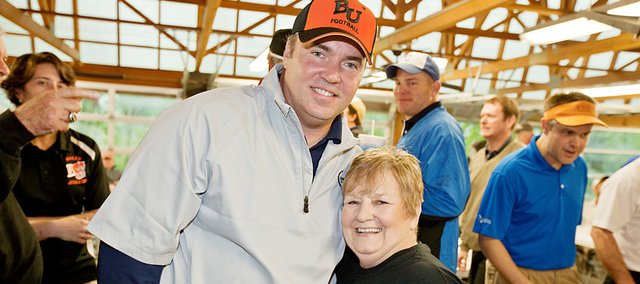 2010-2011 year in review
AUGUST 2010
The university is one of two Kansas universities to be ranked among the Best National Liberal Arts Colleges in 2011 edition of Best Colleges by U.S. News Media Group. • Baker receives approval from the Coordinating Commission for Postsecondary Education in Omaha, Neb., to offer programs in Nebraska for the first time in the university's 152-year history. • JoAnne Fluke, '00, is featured on The Learning Channel's one-hour documentary titled "Dancer with Tiny Legs." • G.I. Jobs announces that Baker is among military friendly schools for 2011 for doing the most to embrace America's veterans as students. • The Princeton Review names Baker 'A Best in the Midwest' university in "2011 Best Colleges: Region by Region."
SEPTEMBER 2010
Green Bay Packers head coach Mike McCarthy, '87, and the Packers organization partner for their third annual $100,000 donation to the athletic program. • University fall enrollment is reported at 3,868 students, an increase of 15 students from the previous year. • The exhibit "400 Years of the King James Bible" opens at the Quayle Bible Collection. • Elizabeth Ann Sanders, associate professor and director of continuing education, is named the recipient of the 2010 M. Claradine Johnson Award for her leadership roles in public schools, higher education and professional organizations. • The music and theatre department presents "The Legend of Sleepy Hollow." • The School of Nursing celebrates its 20th anniversary with a reception and open house at Stormont-Vail HealthCare. • Men's and women's soccer coach Nate Houser, '94, signs a one-year contract to play professionally with the Comets Major Indoor League Soccer Team.
OCTOBER 2010
Six former Wildcat standouts — Bob Courtney, '57; Bill White, '59; Fred Purvis, '70; Brad Roepke, '83; Terry Roepke, '85; and Jessica Walters Ohlde, '01 — are inducted into the Baker University Athletic Hall of Fame during a ceremony at the Doubletree Hotel in Overland Park, Kan. • Dolan Ellis, '57, known as Arizona's official state balladeer, returns to the Baldwin City to perform a concert at Rice Auditorium. • The School of Professional and Graduate Studies is host to a career expo and networking event at its Overland Park campus.
NOVEMBER 2010
The university reports that for the current academic year 69 assistant principals in Kansas have received a master's degree from Baker. That figure ranks second among all schools in the state. There are also 58 principals in Kansas with a master's degree from Baker. That figure is the highest among the state's private universities. • The Kansas Association of College and Employers honors Susan Wade and Kelly Burns, of Baker University's Career Development Center, with the 2010 KACE Career Services Director of the Year Award and 2010 KACE Career Services Member of the Year Award, respectively. • The Multicultural Affairs Office coordinates several events to celebrate Native American Heritage Month. • The Delta Pi Chapter of Phi Beta Delta, an honor society dedicated to recognizing international scholars, inducts students Tiffany Clark, William Duncan, Hillary Jones, Lauren Miller, Justin Morello, Megan Reid, Erin Riggs and Lena Sweyko, and faculty member Carolyn Doolittle, assistant professor of education. • Baker honors 41 first-year and transfer students for graduating from the 2010 Emerging Leaders Summit, where they learn about leadership styles, enabling others to act, team development and creating an inclusive leadership environment. • Seniors Katy Kendrick and Eli Jones are recognized as Teachers of Promise during the Kansas Teacher of the Year 2011 State Awards Banquet in Wichita. • Twenty students are named 2010 Daktronics NAIA Scholar Athletes, including eight Wildcat football players, tying Baker for first nationally for most players honored from one program. • The women's cross country team captures the 2010 Heart of America Athletic Conference title. • "Live from the Orange Carpet," the annual gala and auction, raises $174,115 for the annual scholarship fund. Panda Restaurant Group owners Andrew Cherng, '70, and Peggy Cherng, '68, issued a challenge gift, resulting in an $86,000 contribution.
DECEMBER 2010
The department of music celebrates the 80th Annual Christmas Candlelight Vespers with two performances at First United Methodist Church. • Former associate athletic director Theresa Yetmar, '02 and '06, is promoted to director of athletics at Baker University. • The women's soccer reaches the national semifinals for the first time in program history and finishes with a 14-6-4 record, capped by a spirit rally at the Collins Center. • More than 500 graduates — 299 graduate students and 226 undergraduates — are honored at three fall commencement ceremonies at the Collins Center. Jeff Magee, '85, of Jeff Magee International Inc., addresses the graduate students; and Charles Agro, manager of resources and grants for the Office of Emergency Management, a division of the Port Authority of New York and New Jersey, is the keynote speaker for the undergraduates. • The university mourns the passing of former Trustee Susan Perry, who established the Susan L. Perry Chair in Western American History.
JANUARY 2011
Junior Kayla Anderson is recognized as the recipient of the $2,000 American Red Cross/NAIA Collegiate Leadership scholarship for actively organizing blood drives on the Baldwin City campus. • Forty-seven students are recognized by Who's Who Among Students in American Universities and Colleges for 2011. • Melvin L. Jenkins, an Omaha, Neb., attorney specializing in civil rights, speaks at the annual Martin Luther King Jr. celebration at the Osborne Chapel.
FEBRUARY 2011
Mike McCarthy, '87, coaches the Green Bay Packers to a victory over the Pittsburgh Steelers at Super Bowl XLV. • The world-renowned choral ensemble Chanticleer presents a master class to the Baker University choirs at Rice Auditorium. • The university mourns the passing of Harold Kolling, former Baker historian. • The university earns Tree Campus USA recognition for 2010 for its dedication to campus forestry management and environmental stewardship, the nonprofit Arbor Day Foundation announces. • Nine students — Barbara Bickner, Joylin Hall, Katherine Niehues, Bryce Lathrop, Brian Lamoreux, William Showalter, Matthew Ingram, Eric Loux and Kyle Detrick — perform with the Kansas Intercollegiate Band at the Kansas Music Educators In-service Workshop at Century II in Wichita. • Timothy Buzzell, professor of sociology at Baker University, co-authors the textbook "Power, Politics and Society: An Introduction to Political Sociology," which focuses on shifting global politics, historic elections, politics in everyday life, and terrorism. • The university announces the promotion of three faculty members at the College of Arts and Sciences — Alan Grant to full professor; Joe Watson to associate professor; and Sandra Schumm to full professor. • Jamele Adams, associate dean of student life at Brandeis University in Waltham, Mass., is the guest speaker as part of Founders Week activities at Baldwin City.
MARCH 2011
Students Bryce Lathrop, Brittany Hines and Scott Ireland perform with the College Band Directors National Association Small College Intercollegiate Band at the association's convention in Seattle. • Jarell Price and Levi Calhoun become Baker's first wrestling All-Americans after their performance at the NAIA Championship. • Baker University's radio and television stations received seven awards, including a first place by Michael Wissman in the Best DeeJay Personality category, from the 2011 Kansas Association of Broadcasters in the annual student broadcast awards competition.
APRIL 2011
The 10th annual Community Wellness Festival, sponsored by Baker and the Baldwin City Recreation Commission, is staged at the Collins Center. • The School of Professional and Graduate Studies is host to a free career expo and networking event at its Topeka and Overland Park campuses. • Students Tracie Babbitt, Mariah Barnett, Tonia Karpowicz, Chelsea Pennock and Caleb Watts represent Baker at the Leadership Challenge Event at Washburn University in Topeka. • Cheryl Brown Henderson, '72 and president of the Brown v. Board of Education National Historic Site, is the keynote speaker at Baker's 31st annual candlelight vigil, which honors those who fought for justice and equality during the civil rights movement. • The 143rd annual meeting of the Kansas Academy of Science, featuring ecologist and explorer Mark Moffett, convenes at Baker University. • Baker's small dance team places first at the NCA/NDA Small Dance National Championship in Daytona Beach, Fla.
MAY 2011


Graduates Andrew Dale and Kendra Stephens are honored as the 2011 Fran Jabara Leadership Award recipients during spring commencement ceremonies. • Colleges of Distinction, a guidebook highlighting four-year institutions that are considered "hidden gems," recognizes Baker for its 2011-2012 publication. • Two Kansas high school seniors — Caroline Berblinger of Buhler and Abbey Elsbernd of Andover — are recipients of the 2011 Harter Scholarship, the university's most prestigious academic scholarship. • Martha Harris, professor of business and economics, receives the Jennie Howell Kopke and Verda R. Kopke Award for Distinguished Teaching. • Ben Lister, an assistant at Barton County, is named head coach of Baker's women's basketball program. • The Board of Trustees approves plans to move forward with the $10.3 million Mulvane Hall on the Baldwin City campus. • Seniors Sam Altman, Andrew Dale and Nick Davis combine efforts to place first at the Midwest Decision Science Institute's annual student case competition at Indiana University-Purdue University Indianapolis. • The university honors College of Arts and Sciences undergraduates at the annual Scholars' Symposium for their academic, artistic and athletic achievements. • More than 700 graduates are honored at Baker's four commencement ceremonies. Greg Case, president and chief executive officer of Aon Corporation, addresses the School of Professional and Graduate Studies students at the two Saturday ceremonies. Hoot Gibson, chairman of Baker's Board of Trustees, is the keynote speaker for the undergraduate ceremony. Tom VanSickle, who has a had a career in politics, law, real estate development and property management, addresses School of Education graduate students.
JUNE 2011
Bryce Bowers, a junior communication major from Burlington, Kan., is elected to represent the Kansas East Conference at the 2012 South Central Jurisdictional Conference in Oklahoma City. Bowers is one of four lay persons from the Kansas East Conference selected for the event next summer.