Wildcats, Braves renew early season rivalry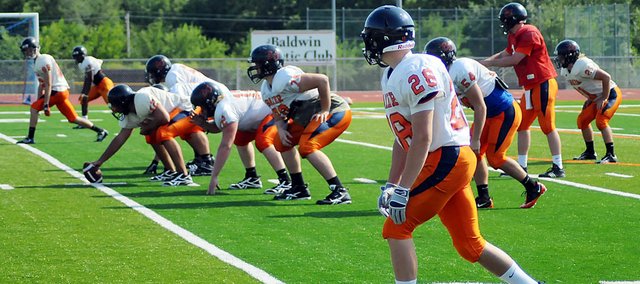 Baker University and Ottawa University are renewing their football rivalry once again to open the fall season.
Only this time, the game is on the Wildcats' territory.
The Wildcats and Braves will battle each other for the first victory of the season. The game begins at 7 p.m. Saturday at Liston Stadium.
"We've been looking forward to it for a year," Baker coach Mike Grossner said. "Once our spring practices and summer workouts started, we've been geared toward this football game."
This year marks the second straight for the two local schools to play in the Victory Sports First Down Classic. A year ago, Ottawa won its home opener 24-14 over Baker.
Ottawa ran the opening kickoff back 99 yards for a touchdown in the 2010 game. Baker was penalized 16 times for 144 yards. Turnovers and missed opportunities doomed the Wildcats, who's offensive yardage was nearly the same as Ottawa's output.
"It's exciting to play a rival like Ottawa University," Grossner said. "Of course, they got the best of us last year. We made some big mistakes last year. We were inexperienced and it showed at times. They made some big plays and won the football game."
Both schools are ranked in the top 25 of the NAIA preseason poll. Ottawa is ranked No. 10, while the Wildcats are ranked No. 23.
Grossner is excited to have the Braves coming to Baldwin City this year.
"It's huge," Grossner said. "It's good for our kids and great for the university. We will have a heck of a crowd. It's nice to be home. The excitement in the stands and around the stadium will be awesome. Hopefully, we play up to it."
Tickets for the game can be purchased prior to the contest in the Baker athletic office in Collins Center. The cost of admission is $10 for adults and $5 for students.
All seating will be general admission. The gates will open at 5 p.m. on Saturday. Tickets will be sold at both the Baker and Ottawa tailgates at the stadium, which starts at 5 p.m. Gate workers will only be accepting cash payment.