School board lowers mill levy before approving 2011-2012 budget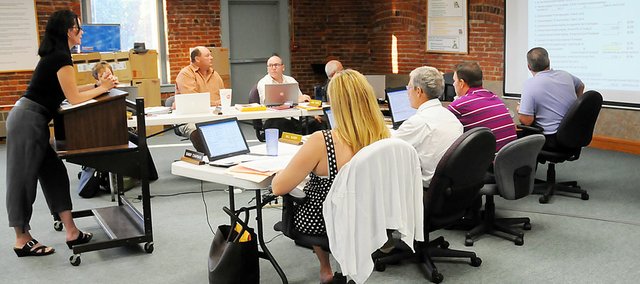 After a lengthy discussion on how to give USD 348 taxpayers a break this school year, the board of education decreased the annual budget by 1 mill Monday night.
A nearly two-hour debate centered on the capital outlay and the bond and interest mill levies ended in a unanimous vote. The USD 348 School Board voted to decrease each by 0.5 mills from the budget that was approved in July.
The district's overall budget is $18,373,801 and the mill levy is set at 68.811 mills. A year ago, the budget was $18,111,188 and the mill levy was at 70.143 mills. The district's general operating budget is slightly more than $11 million and the tax rate on that is 42.311 mills.
"I want people to get a break," School Board Member Nick Harris said. "Can we do a happy medium and cut 0.5 mills from capital outlay and the bond and interest. It's a 1 mill cut that gives everybody a break and doesn't put us in as big of a bind next year."
Most of the discussion Monday night focused on what to do with the capital outlay and bond and interest mill levies. Those were the two budget, along with the supplemental general, that could be adjusted. The board chose to keep the supplemental general mill levy at 22.311 mills, because if it was lowered, the district would also lose state funding.
The bond and interest mill levy was the primary focus of the discussion. Dustin Avey of Piper Jaffray gave a brief presentation to the board about the district's bond and interest budget. Before Monday, it was set at 22 mills for this year and projected to remain there for a few years, because of extra bond issue money that was moved into the fund by the school board in June.
After 2011-2012, the bond and interest budget is projected to decease to 17 mills for several years. Avey explained to the school board how all of these numbers are dependent upon several variables, including assessed valuation, state funding percentage and district enrollment.
Avey also told the board that lowering the mill levy this year could cause an increase next year. However, he said it was too early to tell what might happen.
In an attempt to give taxpayers a break on the mill levy and keep from seeing a large spike next year, the board decreased the mill levy from 22 to 21.5 mills.
"If it's lowered to 21 mills this year and you grow less than what's expected, it's likely you'd have to go to 22 or something higher next year," Dustin Avey said. "There are a lot of variables that go into that number, so it's hard to say right now officially."
The other part of Monday night's discussion was the capital outlay mill levy. It was constant at 8 mills until it was decreased to 5 mills a year ago. In July, the board set it at 6 mills.
In the debate over the capital outlay budget, some board members sought to keep it at 6 mills, because the money is spent on purchasing vehicles, technology purchases and making larger repairs that are needed in the district. However, other board members said some of the items on the capital outlay list are wants instead of needs. In the end, a compromise was made at 5.5 mills.
"I'd be OK with 5.5 mills," Board President Ande Parks said. "I'd prefer to keep it at 6, but I can work with 5.5 mills."
The next regularly scheduled school board meeting will be at 6:30 p.m. Sept. 26.