Elementary students transitioning well to
BESPC

,

BESIC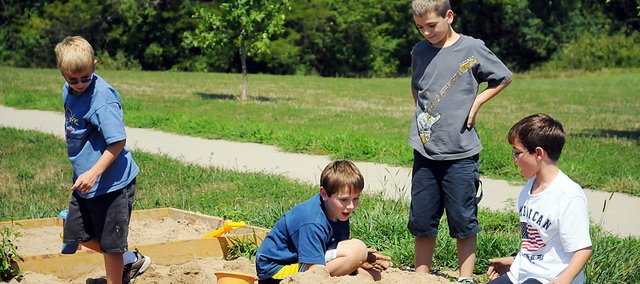 Franklin Delano Roosevelt might have said it best in one of his famous quotes: "Only thing we have to fear is fear itself."
The former U.S. president's quote was appropriate for the move from the two outlying elementary schools into the pair of schools in Baldwin City. Parents and students dreaded the move last year when the USD 348 Board of Education approved the closing of Marion Springs and Vinland elementary schools.
Several months later, all elementary students in the district attend either the Baldwin Elementary School Primary Center or Baldwin Elementary School Intermediate Center. After one week of classes, students and teachers are transitioning well.
"The kids have been amazing," said Heather Wallsmith, BESIC fifth-grade teacher, who previously taught at MSES for 10 years. "From what I've seen, they've transitioned really well. They've included each other, and they've gotten to know each other without us prodding them to do that. I'm really proud of them. I don't know what everybody else has done, but I know in the fifth grade, they've done a really nice job. The Baldwin students have been very welcoming."
BESPC Principal Deb Ehling-Gwin agreed.
"The transition seems to be going very smoothly," Ehling-Gwin said. "I'm sure it's been difficult, but we're glad to have everybody here."
Dozens of former Marion Springs or Vinland students now attend BESPC or BESIC. The school board's vote to close the two rural elementary schools was the most talked-about issue regarding USD 348 during the 2010-2011 school year.
Since the decision was made in January, staffs from BESPC and BESIC have worked to provide a warm welcome to the new students, starting with the outlying schools' students touring the Baldwin City schools last spring.
"For a lot of families, this was potentially a difficult transition, but everybody seems to have found their classroom and adapting well," Ehling-Gwin said. "I think most of the kids were surprised at how many kids they knew here. The staff is blending in well together, so things are great."
Several of the teachers and both secretaries from MSES and VES are now in Baldwin City. While it's taking some slight adjustments, the new staff members are beginning to feel at home.
"The teachers have been great to work with," Wallsmith said. "It's been nice to collaborate. I feel like I've gotten great ideas and I get to hear what they are doing. We've mapped out our curriculum for the year. I feel like I can still do things I've done in the past, but I get to work with a team now. That's helpful."
All USD 348 students began full-day classes last Thursday. Elementary students went to school for half-days Aug. 16-17. The first two days were spent learning the basics and adjusting to the school schedule.
"There is so much stuff to tell the kids during those first couple of days," Ehling-Gwin said. "We took them on tours of the building and we have to get them back in mode of school. What we saw during those half days is they were tired. There are a couple reasons for that. First, they had to wake up earlier than maybe there were used to waking up. Second, they weren't yet in the mode of going to bed earlier, too.
"Plus, a lot of kids are excited for that first day, so they don't sleep well. We like starting them a little bit easier, which I know is difficult on parents to find daycare. So there will be some discussion on that for next year."
While some parents may not have enjoyed finding daycare for the children during the two half-days of school, the staffs at both schools found them useful.