BHS

volleyball squad aiming to build on 2010's success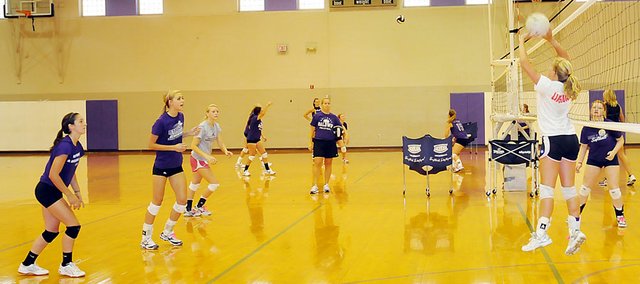 Kaysha Green is one of five Baldwin High School senior volleyball players who weren't satisfied with a near-winning record last fall.
She and her teammates are aiming higher this season. Green and the Bulldogs have endured three losing seasons at BHS, with last year's 17-20 record being the closest to a winning campaign.
"Last year, we had our best record that we've had in years," Green said. "I know I want to have a winning season my senior year. You can see it all over everybody's faces that we want to win."
The desire to win and win now is driving the Bulldogs every day at practice. They are tired of the losing ways and this is the year they are aiming high.
"I want to go that much further," Green said. "We did well last year, but I feel like we have so much room to improve. We're ready for it and we're hungry for the season to start."
Green and the other BHS players know the first step toward winning must happen in the offseason. Several players participated on club teams during last school year. Most of the team attended voluntary summer workouts and conditioning sessions.
The extra time spent on volleyball during the winter, spring and summer paid off when the BHS season started last week. Many players were in shape and practices ran smoother for players and coaches.
"We're definitely improving," Green said. "Everyone is more positive. We're definitely focusing on coming to practice everyday with good attitudes and wanting to get better as a team. The whole atmosphere is different this year."
In addition to better practices, the Bulldogs are giving more effort in practice this fall. One reason given for the added effort is happier players. Green and coach Kelly Brown admitted the players are enjoying practices more than ever before.
"I think this year we have a better team philosophy and we have better effort from the girls," said Brown, who is beginning her sixth year as the Bulldogs' coach. "They've showed each other a lot of love the last week and a half. I truly believe they're working harder than any group we've had in the gym before."
Baldwin lost its two best hitters from a year ago. Ramie Burkhart graduated and Monica Howard transferred to Lawrence. However, BHS returns five seniors and two sophomores who played significant minutes last year.
The seniors are Madeline Brungardt, Lakyn Clark, Paris Nottingham, Taylor Stanley and Green. Madeline McCrary and Morgan Lober are the Bulldogs sophomore who will play varsity this fall.
"We have a different group of seniors this year," Brown said. "They are not only leaders, but they want to lead. They want to do the right things and they want to make sure we have great cohesiveness as a team. They're willing to put the extra time in off of the court to ensure that happens. Having leadership from a group of seniors makes a major difference in what everybody else does and how the underclassmen come to play. I think that will tie into us getting over .500 this year."
In addition to the returning players, the Bulldogs will welcome a pair of freshmen to the varsity roster. Jordan Hoffman and Corey Valentine, who stand 5-feet, 11 inches and 5-9, will help the Bulldogs.
"Jordan brings a completely different aspect to the game out of the middle that we haven't experienced before," Brown said. "She and Corey have played a lot of club volleyball and I believe they both started in third grade. They have a lot of years of volleyball that they are bringing as freshmen. Plus they give us some size."
The Bulldogs will host an alumnae scrimmage at the BHS gym on Friday. They will play at 4 and 5 p.m. Their first matches will be at 5 p.m. Tuesday at Basehor-Linwood High.
"I'm ready for Tuesday," Brown said. "We are steps ahead of where we've been in the past, because of our offseason work. I'm looking forward to it."