Baldwin High soccer ready to open season Friday at Tonganoxie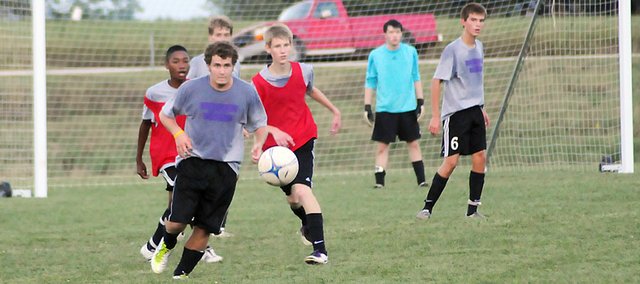 Clint Chapman is one of the Baldwin High School soccer players who remembers how painful last season's finale was.
Chapman is now one of more than a half-dozen seniors on the BHS boys' soccer squad. The overtime loss to higher-seeded Spring Hill last October has Chapman and his teammates ready to begin the season.
The Bulldogs will kick off the season at 4 p.m. Friday at Tonganoxie. Baldwin won the game 1-0 a year ago.
"We're ready for Friday," Chapman said. "We're excited to play our first game."
Baldwin's exit from the regional final came at Spring Hill. The Bulldogs and Broncos played 80 minutes to a 2-2 tie. During the first minute of overtime, the Broncos scored on a long goal, winning the regional and advancing to state.
"I'm sure they all remember that game," coach Mark Joslyn said. "We will play them our third game and second game at home. We are looking forward to that game. We need to play. We've had enough practice. It's time to play now."
The final game was one of several where the Bulldogs allowed a late goal to beat them last fall. In some instances, they maintained a late lead, but it slipped away. With another year of experience and as conditioning improves, the Bulldogs' coach hope that closes losses turn into victories.
"We lost several games after the 60-minute mark," Joslyn said. "That's why I've tried to stress conditioning to them. Hopefully that won't happen this year, but we need to finish games better."
Baldwin isn't lacking experience this fall. BHS returns seven players who started a year ago, including goalkeeper Mason Bandre and back-up goalie Cody Keener.
Chapman and Louis Joslyn return as BHS captains. Senior Caleb Michels, the Bulldogs' leading scorer in 2010, is also back this fall. On the defensive end, Austin Kraus, Dustin Wallace and Ryan Hundley return as seniors and juniors.
"We are deeper than last year," Joslyn said. "We have good returning players, who are a year older. So we will have more options, which will be nice.
"At least three of seniors have been on some all-league or region team," he said. "We have some juniors who have played a lot of minutes. We also have sophomores who play all year round, so they are quite experienced, too."
One goal for the Bulldogs this fall is to improve their offense. Joslyn and his players want to score more goals. It's that simple. With returning players as forwards and midfields, with new additions, they hope that will contribute to a more prolific offensive attack.
"Hopefully, our goal count will go up this year," Chapman said. "Hopefully we will be able to score more goals."
If the Bulldogs' scrimmage on Friday was an indication of the upcoming season, it was a good sign for Baldwin. Several goals were scored during the team scrimmage.
"I saw some good things," Joslyn said. "One of the teams scored a lot, which I was happy about because we need to score more. I thought we did well getting the ball wide and crossing it in, which is important. We have some things to work on with our fitness level. We aren't there yet. We need to get a little better technically on the ball. I think we'll get there.
"We are a year older, so we might be a bit faster. I don't think we are the fastest of teams. It's my hope that we play good rhythm soccer and play together as a team."
The Bulldogs won their first regional game last fall. Then they lost to Spring Hill, finishing their season 9-8-1.
Baldwin will be the host Paola at home Tuesday and Spring Hill next Thursday. Both games start at 4 p.m.
"We still have the appetite to win some big games," Chapman said. "We all get pumped up for Spring Hill, Louisburg and De Soto. We are definitely looking forward to those games this year."