Traditional games draw interest at Vinland Fair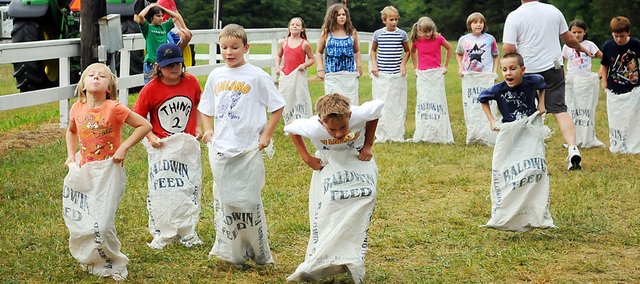 Although David and Barbara Maycock's barn can be seen from the Vinland Fairgrounds, their grandchildren had to travel farther to enjoy the festivities, coming from Buffalo, Mo., for the weekend.
Like many of the other children who spent the majority of the three days at the 104th Vinland Fair, the Maycock's grandchildren took full advantage of the activities. The three grandchildren, ranging in age from 5 to 11, went from activity to activity in old farm skills competition Thursday and the kids' events Friday.
The Maycock's not only enjoyed the kids' games because it is a fun time for them to spend with their grandchildren, but also because the games have not given in to technology.
"There's no (carnival) rides and that kind of stuff, which is great," Dave Maycock said. "They do the farm skills and all that kind of stuff. It's just good-old, down-home fun."
Mike Craig and Allen Osborn supervised the kids' games Friday and know the excitement of the fair, as both grew up participating in the games when they were kids.
"They always come out, every year, they always come out for it," Craig said. "That's why we do this right here, it's for the kids to have fun."
Thursday's farm skills competition included shucking corn, a hammering competition and a two-man saw. Kids also participated in bicycle races, sack races, a ball toss competition and a tug-of-war to end the activities Friday. Cash prizes, in the form of 50 cents to $1, were given to all kids 8 years old and younger who competed and to the first-, second- and third-place finishers who were 9 and older.
Osborn said most of the children go to school together and play on the same sports teams, and while it is a competition, the point is to have fun.
"It's kind of their own little inner competition," Osborn said. "If they lose, eh, whatever, it doesn't bother them. They keep on going."
Barbara Maycock proved children weren't the only ones who got in on the fun, as she was one of several adults who participated in the farm skills competition and Friday's games. She competed in the hammering competition, two-man saw and bicycle race and wishes more parents and grandparents competed.
"I wish there were older people that came out and did it," she said. "Like there's another lady that has a three-wheel bicycle like mine and she said 'I should have brought mine,' and I said 'yeah you should. It would be more fun.'"
The Maycocks said the grandchildren's visits were just one reason the fair was special.
"It's a fun time for us with them. We get to see them and see what they can do," Barbara Maycock said. "It's also a place where you don't really have to worry about them. They can just kind of run free, and I think they really enjoy that."
"We look forward to it every year. We plan. We start way ahead. We're the poultry superintendents, so we set up all the chickens and everything, the cages, and we do the watermelon seed-spitting contest. We started that. They hadn't had that before, and we started that about three or four years ago."