Participation numbers skyrocket for
BHS

girls' cross country program; boys numbers remain constant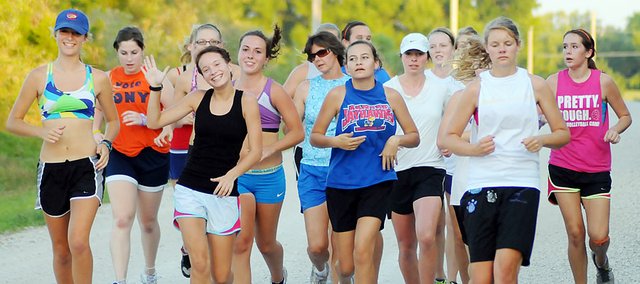 Mike Spielman will have no trouble finding female runners to help defend the Baldwin High School girls' cross country streak of four state titles.
In fact, the BHS coach enters his 20th season with the largest number of girls he's ever had on the team. As of Tuesday, there were 29 girls on the girls' cross country team, which is twice the number of boys out this fall.
"We have lots of them," Spielman said. "It's a big number this year. We had about 18 girls last year. On the boys, we're about normal. Last year, we had 18 or 19, but we had nine seniors, which is a big class for us. I'm really excited about the numbers, and all of them are pumped, too."
The high number of participants has been a pleasant welcome for the returning members of the BHS squad.
"It's crazy," senior Elizabeth Sigvaldson said. "We've never had this many girls out for cross country. I'm happy with the turnout, because the more girls we have out, the more talent we are going to have."
Spielman agreed, saying the Bulldogs could also be heard easily during their runs.
"They're enjoying it," Spielman said. "When you have that many, there is a lot of chatter. It's good, because in cross country you're outside all of the time. They can have fun and build team chemistry."
Baldwin lost only one senior from the 2010 team that won the Bulldogs' fourth-consecutive state championship. This year's roster is filled with many returning runners, along with many new runners.
Some of the new additions are from the girls' soccer team. The soccer players will have their own season in the spring, after having played coed in the fall during previous years. There are also some girls from the volleyball and tennis teams, along with some students new to USD 348.
"What's nice is we have three or four kids, who are new to the district," Spielman said. "It's nice to have those kids come in and join us. It will help make their transition a little easier."
The large pack of BHS runners could have been seen running through and around Baldwin City every morning this week, except Monday. Lightning forced the BHS cross country and football teams inside to begin the season. The Bulldogs were also outside every evening, logging easy miles.
"The first morning practice didn't turn out like we had hoped," senior Brian Wright said. "We had to start out running inside, which I never like to do. Since then, the weather has been pretty awesome. It's finally cooling down. It's nice to have some cooler weather with the more difficult workouts coming up this week and next."
Despite about 14 or 15 runners on the boys' side, he is still optimistic about the Bulldogs season, Wright said. He knows they do return three our of the top four runners from a year ago, including himself, senior Tosh Mihesuah and sophomore Ethan Hartzell.
"The first two days have gone pretty well," Wright said. "We are a little low on numbers on the boys' side. We've shown that even with low numbers, we are still talented from top to bottom."
Both squads have been taking the first few days easy. They're working to build their mileage base for the rest of the season. Their first hard workout will be tonight, when they have a timed 15-minute run around the BHS track.
"What will show will be Thursday's run," Spielman said. "That will be a nice gauge of how in shape they are right now. Part of them are feeling good now and that's because they did run during the summer."
The Bulldogs' first meet is Sept. 1 in Garnett.
"I'm really excited about it," Sigvaldson said. "I love Anderson County. I think it's a tough course, but I can't wait."
Meanwhile, Spielman is anxious to see how his teams run, but he knows it doesn't matter until mid-to-late October.
"We have plenty of time," Spielman said. "Our goal is league, regional and state, like it's always been. It's a progression to get there. We don't want to get there too fast. We want to get there just right."