BHS

volleyball players build on busy summer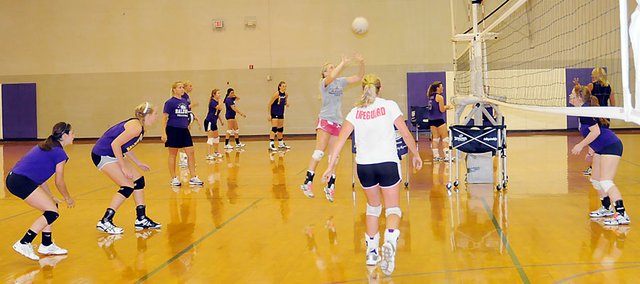 Although Baldwin High School volleyball participant numbers are low this fall, coach Kelly Brown is excited about the upcoming season.
Brown's squad has only 21 players this fall. Most of the players were on last year's squad with only a handful of freshmen added to the team this fall.
After three days of practice, Brown is confident her squad is about the quality of players not quantity.
"We have 21 great volleyball players in this gym," Brown said. "We have 21 girls who played a lot of offseason ball. They've done a lot of work in the offseason and summer. It's kids that we want here in the gym."
The Bulldogs started the season Monday with conditioning in the morning and practice in the afternoon. The early season practices have gone well, coach and players said.
"The girls are working hard," Brown said. "They have great attitudes. Everybody is putting in a lot of effort and showing a lot of enthusiasm on day two."
Senior Paris Nottingham agreed with her coach.
"Things are going really well," she said. "Everyone is coming, and everybody's been really excited. There has been no negativity. Everyone is super excited to get to the first match. We're all anxious and ready to work for two weeks before we start the seasons."
The Bulldogs will be trying to build on their season last year, where they finished 17-20. It was the best record for a BHS squad since 2003. This year, the players and coaches hope to continue improving and finish with a record above .500.
One way they hope to achieve a winning record is through their work during the summer. They played in weekly summer league games during June, had open gym sessions twice a week for half of the summer and had a team camp during July.
"We did so much this summer," Nottingham said. "In the summer league, we played together and got our chemistry going a bit. We also had two weeks of conditioning before our first practice and that helped a lot. We can tell a big difference. We aren't dying the first day of practice."
One area of improvement that is already showing is on-court communication, especially between older and younger players.
"Our summer work is already paying off," Brown said. "The other part is paying off is all of the work we did in open gym this summer, especially with the underclassmen. They are more comfortable around each other. Our communication is already improving, from where we've been in the past."
Although the Bulldogs remain optimistic about the season now, they know they have much work ahead of them if they want a winning record. There are many areas to improve upon, but Nottingham said their offense should be improved from a year go.
"We need to work on our quick offense," she said. "We didn't do it too much last year, but this year everyone is quick. We can really utilize our quick players and offense and hopefully it will show on the scoreboard."
Baldwin will play its first matches of the season on Aug. 30 at Basehor-Linwood.
"We're going to keep pushing them hard, until we have our first match," Brown said. "I think that we have a group of girls that will work hard and want to be in this gym."