BHS

girls' tennis squad enjoying cooler summer temperatures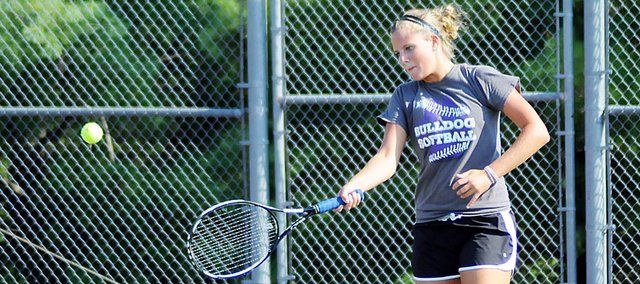 Like many Baldwin High School fall coaches, Justin Hoffman is pleased with the early progress of his girls' tennis squad.
His Bulldogs began practice Monday and have been working hard every afternoon to prepare the for fall season. Hoffman has been happy with his returning and new players after three practices.
"Things have been going very well," Hoffman said. "We're trying to get the returning players back in the swing of things. We have several new players, too, and we're trying to get them equipped with the skills they will need to compete. A lot of the new players attended our tennis camp this summer, so they have a jump on the season, which is very encouraging. Overall, it's a good group this year."
Some of the returning tennis players worked with Hoffman or in Lawrence on their skills. The signs of improvement are already showing, according to their coach.
"We had a couple players that really went intense this summer," Hoffman said. "It's showing and I got to see it this summer at camp. I'm encouraged that we've got some kids putting in the work outside the tennis season to get better."
One element that's helping the Bulldogs during the early practices is cooler temperatures. They battled the hot weeks of July this summer, but now, like the other fall sports teams, they are enjoying the weather.
"It's not been blazing hot like it was in July," Hoffman said. "Thank goodness, because that was horrible. The temperatures have been good, but it's been sticky. It's that way for everybody, so we just have to deal with it. I'm always glad to be outside and not doing conditioning inside, because that's not good for their tennis game."
There are 22 girls on the BHS squad. More than half are returning players. Hoffman has six seniors and seven freshmen on the team, which gives him a nice balance of older and younger players.
Like the other fall teams, the girls' tennis squad is practicing the basics during the first weeks of the season.
"We're just working on the basics, especially for our beginners," Hoffman said. "For our returning players, we want them to get back in the swing of hitting a tennis ball this week before we get too drill heavy. We're trying to knock the rust off the first week."
Baldwin returns four varsity players from a year ago, including three who participated in the Class 4A state meet. They are Kara Hoegerl, Alison Berg and Hayley Schwartz. Kaitlin Jorgensen was the varsity player, who narrowly missed qualifying for the state tournament.
The Bulldogs first action is a junior varsity tournament Aug. 31 at Mill Valley. The varsity squad starts Sept. 1 at Topeka-Hayden.
"I could wait a couple weeks for competition," Hoffman said. "We've got so much to do before we're match ready. I wouldn't mind a JV dual early to give some of those kids a taste of matches."