BHS

football team enjoying opening practices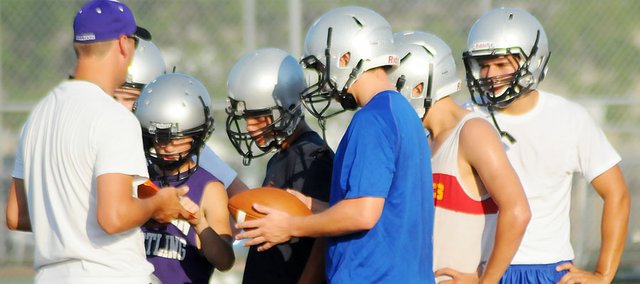 Increased summer workouts and training has made the first few practices easy for Mike Berg and his Baldwin High School football players.
During June and half of July, Berg and his players were lifting weights and conditioning daily, while also practicing twice a week. Many of the players also attended voluntary conditioning sessions during the two weeks leading up to Monday — the first official day of practice.
The summer workouts have helped the Bulldogs become bigger, faster and stronger. They've also helped Berg and the coaching staff implement the offensive and defensive schemes into the players' minds before the season even started.
"It seems like we are in a lot better shape to start the year off than we normally are," senior Jake Mindez said. "That helps a lot. Our preseason conditioning does really pay off when we start practice.
"We don't have to learn as much at the beginning of the season. That helps the plays roll better, and we don't have to be taught as much during practice. It also helps because coach doesn't yell at us as much if we already know the offense and defense."
Berg has enjoyed the rule change that was made three years ago by the Kansas State High School Activities Association.
"We are all about 100 percent basics right now," he said. "Since they changed the rules, we are ahead of the game. So is everybody else. We are right where we need to be. We know our basic plays. We just have to perfect our techniques."
To top it off, the BHS football team lost a large class of seniors, who led the team a year ago. Now those roles are looking to be filled by the incoming senior class, along with the juniors and sophomores. After two days of practice, the Bulldogs' coach is thrilled with the progress of his team.
"I'm ecstatic right now about the effort of our kids," Berg said. "As a coach, you go into a season nervous after graduating such a talented class. All of that nervousness is gone, because these guys know what it takes. They've been dedicated all summer, and they're giving us everything they have on the field. That's all I can ask.
"We're back to business. We're learning our techniques and lining up correctly. I couldn't be happier with our freshman either. We have some freshmen that are some talented football players."
Baldwin High started the season Monday morning, but was forced inside because of lightning. They came outside Monday night and were outside twice a day on Tuesday and Wednesday.
"The weather has been great," Mindez said. "It makes everything look better. We don't have to go inside the gym as much. We get more done when we are outside."
Berg did say the 6 a.m. practices have been tough on some players, who have missed practice or shown up late. He said that shouldn't be a problem when practices go to 3:45 p.m. when school starts today.
"We have a lot of guys who are having a hard time to get that alarm to work," Berg said. "We practice and 6 a.m. and 6 p.m. I'm not making excuses for them, but we're getting some stragglers who are sleeping in. As soon as school starts, I think that will be fixed."
The Bulldogs have about 55 players out this fall. That's an increase from the past few years, where the number has been between 45-50. Berg hopes to keep participation around 55 every year.
"We're not as big," he said. "We lost some depth, because the guys that were our depth last year are playing this year. We got some younger, talented kids, but they're not linemen. I do like the linemen we have though."
BHS will open the season Sept. 2 at home against Paola.
"It seems like it is rolling around the corner," Mindez said. "I can't wait for it to happen."