BHS

band ends busy summer, prepares for school year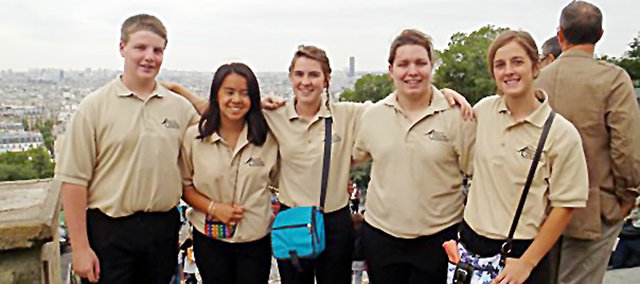 Will Cooper and the Baldwin High School band have been busy during August with their annual camp and performing twice last week.
Cooper, BHS band instructor, and his students had their annual camp Aug. 1-5 in preparation for their two performances. The Bulldogs played last Thursday at the Vinland Fair and Saturday in Overbrook.
About 52 BHS students attended the weeklong camp. Overall, Cooper was pleased with the turnout and performance of his students.
"Our camp went really well," Cooper said. "I think 80 percent of the kids were able to come to part of it and some came to all of it. We have performances coming up, so that was helpful for that. It was a little hot, but we got a lot done."
The Bulldogs are switching their music this year. During halftime of BHS football games and at performances, they will be playing music from the acclaimed Disney movies "Pirates of the Caribbean" series.
"That's going to be our competition music," Cooper said. "When we play at the Baker marching festival in October, that's what we are working for now."
The students are excited to play music from movies they've seen.
"I was pumped to hear that we were playing Pirates of the Caribbean music," BHS junior Carrie Deitz said. "It makes it a lot easier to learn your part when you can listen to the soundtrack and hear how you are supposed to play it. It is also something new, because the past two years I have been in band we've played music from rock bands like the Beatles and Journey."
Early in the summer, a group of five BHS students and Cooper traveled to Europe with a 16-day trip. They were with the Voyageurs International, which is a Colorado-based company that sends American students and their music abroad to other countries.
"It's nice tour," Cooper said. "I think this was my 10th time going on the tour. We've taken lots of kids from Baldwin. The first time it's fun because it's something new. Now it's fun because you're taking a different bunch of kids, many of whom have never even been on an airplane. You get to go around to different places in the world with them. I feel comfortable enough, having done it many times, that I can act as a tour guide."
The BHS students on the trip were Carrie Deitz, Abby Clem, Cate Gwin, Tayler Christian and Brian Cooper.
"The trip to Europe was phenomenal," Deitz said. "It was my first trip abroad and I got to go with my friends Abby, Cate, Tayler and Brian, so that just made it even better. We also got to see a lot of places in Europe so there was never a dull moment for the entire trip."
The BHS party of six traveled in a group of about 250 people. The group from Kansas played concerts in Paris, London, Switzerland, Austria and Germany, and they played in many old European churches.
"Playing with kids from all over the state was a privilege," Deitz said. "I made a whole bunch of new friends and got to get really close to some of them. The performances in Europe were truly once in a lifetime opportunities. I mean we played in the Luxembourg Gardens
"Plus the acoustics in these places just really brought out the music. It was also really neat to see people walking by on their lunch hours or running errands to stop and listen to us play a song or even stay for the whole concert"
While on the tour, the group visited many famous European landmarks. Those included the Matterhorn in Switzerland, Big Ben in London and the Eiffel Tower in Paris.
"One of my favorite parts of the trip was when we were in Paris and we all snuck out of the choir concert in the Latin district," Deitz said. "Mr. Cooper took us to this place that made doner kabobs and we ate them and made it back in time for the rest of the performance. We thought we were pretty cool for sneaking out. I also really enjoyed the view of Lake Geneva in Switzerland."
However, her favorite part of the trip was running into a student from the Vermont Real World Design Team. She met him at the national competition in the spring and they randomly met in Europe.
Deitz was waiting on a bench for Clem, when the Vermont student approached her. He was on a family vacation and they both recognized each other.
"It was definitely the weirdest experience of my life," she said. "I never knew I'd have to go all the way to Switzerland to have a RWDC reunion."