Barth business benefits environment, charity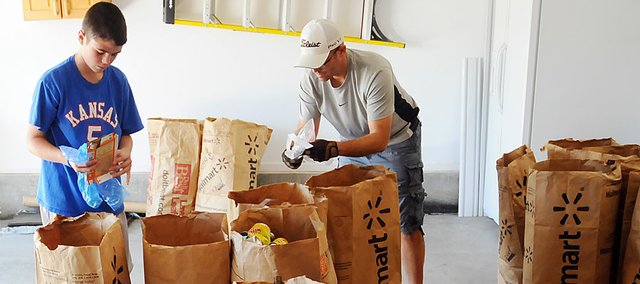 At just 13 years of age, Jackson Barth already knows about waking up early some mornings feeling less than enthusiastic about going to work.
Despite the early wake-up time and occasional bad weather, Jackson, founder and CEO of 2 Kids and a Mom Recycling, sacrifices his time and effort to help the environment.
"Some days it's just cold or it's raining and you're just out their picking up the bags, putting them in the car, I'm like 'oh, I don't want to do this anymore,'" Jackson said. "But then the next day you're feeling like it's over but I can't wait until the next time because you'll be able to save the world even more again."
Jackson created the business four years ago as a way to earn extra money, while also putting that work toward a cause.
"I thought it was a good idea because my mom has always had like a green thumb. She's always wanted to help the environment and stuff," Jackson said. "And then I thought it would be a good idea because it just seems that Baldwin probably needed a curbside recycling business and so we took that job."
Once every two weeks, the Barth family's Honda Element makes three or four trips in Baldwin City, collecting anywhere from 30 to 40 large bags filled with recyclable materials to unload in the family garage. Helping in Jackson's business venture is his mother Sara Barth and his brother Jordan, 9, who Jackson just appointed as the president of operations. Doug Barth, director of alumni and corporate relations at Baker University, also helps out in the family business as a silent partner.
Sara Barth said Jackson's was developing skills that would help him later in life through his handling the budgeting, payments, communication and customer service.
"I think it is real-world experience and later on if he decided to start a business, obviously it'd be a lot more in-depth than this, he has some leadership skills as far as how to handle that and has a little history with it," Sara Barth said.
A lot has changed since the business began four years ago. The Barths can now drop off the recycled materials in Baldwin City and no longer have to take recycling to Lawrence. And Jackson now communicates with customers via email instead of over the phone.
The recycling business began with six customers, mainly in the FireTree neighborhood where the Barths also live, but now 2 Kids and a Mom Recycling has around 15 customers, with some living as far away as Vinland. The cost for recycling pick-up is $10 per month, or $15 in months with three pick-up dates. The Barths collects all seven types of plastic, aluminum, tin, newspaper, paper and cardboard. The recycling is collected on Thursdays during the summer and Sundays during the school year.
"I think it's fun because more and more people are recognizing us and saying, 'man, I could be one of those people recycling and helping the world,'" Jackson said. "Because every single time, it may not be a lot because it's it just in Baldwin, but one single step at a time makes the world better."
Although their customer has more than doubled in four years, Jackson and Jordan are not freely spending the money they make from the business. Instead, each donates money on a monthly basis to a charity and also saves earnings to their college fund. Jordan has begun donating to the National Wildlife Fund, while Jackson has given about $900 in four years to St. Jude Children's Research Hospital.
"We look at it as it's a way to help our community, our environment, it helps the charities that the boys have chosen and it helps their college fund, basically," Doug Barth said. "And all of that, it makes all this I think very well worth it."
Some customers have left because they wanted to begin recycling on their own, which is fine for the Barths as long as the recycling is still getting done. But if the business keeps customers, it's going to continue well into Jackson and Jordan's high school years.
"I'd like to do it as long as we can," Jackson said. "If everyone quits or like too many people quit and start doing it on their own, then we'll just find something different to do."