Vinland Fair holds special meaning after school closed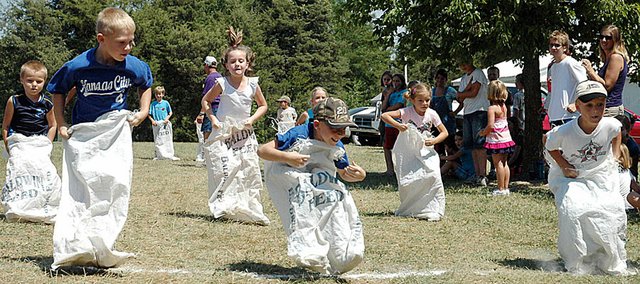 There aren't many places left where you can watch an antique tractor pull contest or learn the finer points of the horseshoe toss. But if you head to the Vinland Fair, you can do just that.
"What's interesting about this fair is that it's all homemade," said Nora Cleland, publicity chairwoman for the Vinland Fair.
Running Thursday through Saturday, this year's fair has taken on extra importance for the Vinland community. Last December, the Baldwin City school board voted to close Vinland Elementary School, which was the rural community's last school.
"Without the Vinland school, this becomes the last all-community event we have," Cleland said. "People get excited about going because they see people they haven't seen the rest of the year"
The fair is volunteer-run, with community members showing up to officiate contests and bearing homemade pies and home-cooked meals to sell. All profits from food sales go toward operation of the fair. The fair also receives $4,000 from Douglas County, which organizers say accounts for just a small portion of its operating costs.
The fair kicks off at 2 p.m. Thursday with a farming skills contest, which will challenge contestants to drive nails, toss bales and saw logs.
Friday night has the fair's main attraction, the antique tractor pull.
"That is our most popular event," said Mike Eckman, who is supervisor of the pull this year.
Tractors must have been built before 1960 to qualify.
"Some of the older guys that have done it for a while do have strategies," Eckman said. "They keep their tractors tuned up, know how to pull and just go."
For animal lovers, there's a pet parade at 11 a.m. Saturday, with categories ranging from prettiest rabbit to most unusual pet.
Though there are new features this year, such as air conditioning in the Exhibition Building and a new mural of 1920s Vinland, event organizers say at its core, the fair retains the spirit of the first one, held back in 1907. That fair was volunteer-based, too.
"The first fairs were held in tents east of Vinland before we had the fairgrounds," said Cleland. "Then in 1927 they acquired the land and volunteers built the first structure," which has been added to the National Register of Historic Places.
The fairgrounds are at 1735 N. 700 Road. Admission and parking are free. All three days have live music, with the Baldwin City High School Band and Alferd Packer Memorial String Band performing Thursday, Wood Valley Pickers Band on Friday, and the Witness Band closing things out Saturday. For a complete list of fair events, visit vinlandfair.wordpress.com.