Thomasson excited for second year as
BJHS

principal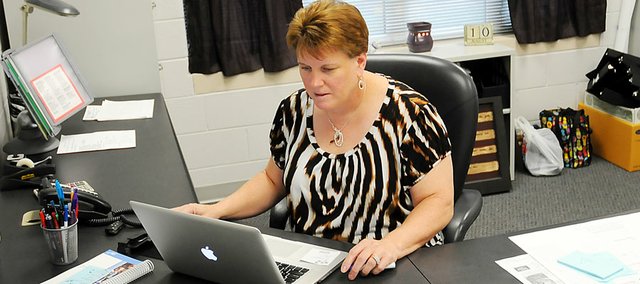 As Tammy Thomasson prepared for her first school year last August as the principal of Baldwin Junior High School, she did not just have to learn the ins and outs of the unfamiliar school.
Thomasson was beginning her first year as a principal at any school, formerly being the curriculum director at the Wellsville School District, and was filling the role of two people, being the lone replacement of a former principal and vice principal.

Despite adjusting to a new environment, new responsibilities and new people, it did not take Thomasson long to fit in, BJHS secretary Patty Irick said.
"Really she just hit the ground running from the get go," Irick said. "I mean she had a hard job. She's filling the shoes of two people, because we lost our assistant here, but the kids love her and she has so much energy."
Coming into this year, Thomasson said she was more comfortable and knowing how the district and building work made easier to get her second year started.
"The staff is awesome and so they've made it so easy to come in and work because they just work so well together," Thomasson said. "So that made it very easy for me. The kids are great, so I really had a great year last year, really enjoyed it, and I feel like I've been here forever now."
Thomasson made a quick connection with the students, spending 15 minutes in the morning before the first bell rings each day talking and getting to know the students better, and then attending as many evening and weekend school sporting events and functions as she could.
Thomasson enjoys spending time with students and said having a strong relationship with the students is very important.
"They have to know that you care about them and respect them. That way when it does come time for either discipline, or comes time to do maybe something more serious, then they know that you're really out for the best of them," she said.
Thomasson has been spending August planning the teacher in-service days and preparing for the sixth-grade students to enter the building. While she no longer has to deal with the excitement of the unknown of what the school year will bring, her excitement level for education hasn't decreased.
"I love education. I love my job. It's a job I'm very happy to come to every day, so I look forward to coming to work," Thomasson said. "So that makes it so much better. When you really want to come to your job and you really are excited about it, and I try to keep that attitude, a very positive attitude about that, I think it's kind of rekindles your excitement every year."
BJHS Resource Room Teacher Michelle Johnson believes Thomasson was as prepared and knowledgeable to take over from the two principals as anyon.
"I don't think anyone could have done as good a job as she has done because she's so knowledgeable in so many areas," Johnson said. "She's great with connecting with students, but she's also so knowledgeable as far as being a principal in so many areas as far as curriculum and state assessments, student improvement and that type of thing."
Johnson said the staff works well as a team, and Thomasson fits into that team well. Staff will follow her leadership in areas where they can improve. Johnson said.
"I really feel like she does work with the staff and she's not going to throw a lot of things at us at first, but I know she wants us to be a successful building and whatever that's going to take, she's going to ask that from our staff," Johnson said.
Thomasson stands by the motto of if it's not broken, don't fix it, but she does look to make some tweaks in her second year as principal.
"Your first year is just to kind of come in and learn and figure out what you're doing," Thomasson said. "Your second year, now that's where we're starting to implement some of these things, and so we're looking at 'OK, so how do we now take this idea and then bring it forward to the year and impact the most positive on students.'"