New
BHS

principals ready to start school year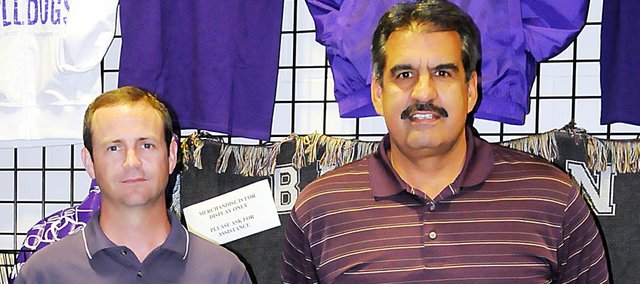 Anyone meeting Baldwin High School's new administrative team for the first time, might get them confused based on height.
BHS Principal Rob McKim is much shorter than Assistant Principal Frank Perbeck, who threw the javelin for Kansas State University. The height issue has been joked about in the BHS office since the pair started their new jobs July 1.
"I'm sure there will be some that switch us," McKim joked. "The fact that we switched offices will probably throw some for a loop, too."
McKim moved into the office of Bret Jones, former BHS assistant principal, while Perbeck took the office of Shaun Moseman, former BHS principal. While they new BHS principals joke about the height difference, they've enjoyed working with each other this summer.
"(Frank) was a good hire," McKim said. "He is well-respected in the area and for good reasons. He's been successful wherever he's been. He brings a lot of experience and a lot of passion that we will rely on heavy here in Baldwin.
"Ultimately everything that comes out of this building is a reflection on me. But having said that, we'll put our heads together and make decisions together a lot. We'll communicate pretty well with each other."
Perbeck agreed with McKim.
"We're working very well together," Perbeck said. "I think we have some of the same philosophies and ideas. We've been in different school districts, so we can run by some of the experiences we've had in previous districts."
Both principals come from area school districts of similar size. McKim,, who is originally from Sabetha, was the assistant principal at Fort Scott High School for the past two years. Before Fort Scott, he was at El Dorado for six years.
Perbeck comes to BHS from Frontier League rival Paola. He was the assistant principal at Paola for the past eight years. He has also been the Central Heights High School principal and a teacher at Russell after graduating from KSU in his hometown of Manhattan.
"Purple is a natural color for me," Perbeck said.
Since starting July 1, the new administrators have kept busy. While trying to learn how things are run at BHS and the new systems, they've tried to meet the BHS staff.
"Things have been busy, but I think they've been good, too," McKim said. "I've been getting to know the staff, students and community members. It's been good from my perspective. I've been learning the Baldwin way. Each school has its own little niche or the way things get done. I'm sure we'll change that a little bit, but we don't want to upset the entire system."
Perbeck said his first month has been good but also busy. He's also adjusting from using a PC to Macintosh. While many changes have happened during the past two months at BHS, both new principals hope to continue the Bulldogs' success in various areas.
"I'm just glad to be here. It's a great school with great tradition," Perbeck said. "The faculty, staff and students excel on all levels — academics, state standards of excellence, state assessments, Real World Design team and athletics. I'm glad to be a part of continuing the traditions."
BHS office staff members have enjoyed the new principals and know they will work to maintain success at BHS.
"Rob and Frank are bringing in fresh ideas," said Gary Stevanus, BHS activities director. "They don't want to come in and make wholesale changes. They want to see what Baldwin has done in the past, what works and what doesn't work. They're bringing in fresh ideas, which is always welcome. I think they're enthusiasm will go well. They're ready to start the school year and get students in here."
For the next week, McKim and Perbeck will work with the BHS staff preparing for the start of the school year. BHS freshman orientation is Wednesday, while the rest of the students start the following day. They know their professional relationship will continue to grow as the school year begins.
"I've got a lot to do before they get here," McKim said. "That's when it gets really fun, and it's why we do what we do. We want to help give them the best opportunity to be successful."