McFarlane Aviation set to expand with new building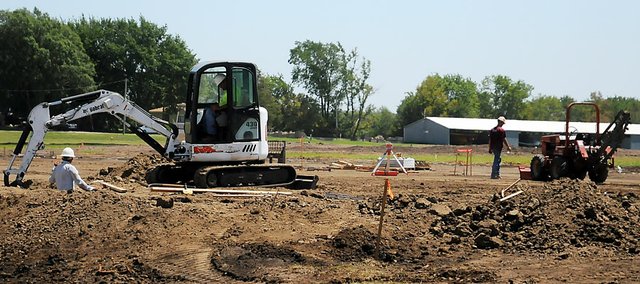 After continuous requests by customers of McFarlane Aviation for new and additional products to what the company already manufactures, general manager Dan McFarlane is giving the company room to grow.
The aviation company is constructing a 24,000 square foot building, which will allow it to expand operations. Although a hard timeline is not set, McFarlane said the building should be completed around the first of the year.
"It's been a project that we've been looking forward to for multiple years actually. We've known this time was coming," McFarlane said. "We are growing to our limits in our current building and running out of room and we had to go through a process of re-zoning in order to expand it at this location."
McFarlane manufactures replacement parts for light aircrafts and some of the equipment in the current facility will move to the new building so room is left in the current building to expand the machine shop.
"We were looking at a variety of options. It'll be a little more space than we need right now, but it'll give us some elbow room, some room to grow here over the next five years," McFarlane said. "We initially looked at a little smaller square footage but as the project came together, the 24,000 square feet just seemed to be the appropriate size as far as efficiency of construction and so forth."
Several new staff members have been hired to help fill the additional space the new building will provide. McFarlane said the company has been "front loading" with hiring several people in the last year to anticipate the additional space and get the new workers ready. McFarlane added the company did intend to continue hiring a person here and there as needed throughout the next couple of years.
As McFarlane Aviation looked to the future when deciding to expand the business, the question arose of staying at its current location in Vinland. McFarlane said he looked at the options of moving into vacant buildings in nearby areas, but it was important to stay at the same location and his staff agreed.
The company did a survey of its employees asking their preference on moving or staying at the current location, and McFarlane said the overwhelming support was to have the future of the company take place in Vinland.
"At the end we decided it was best for our company to stay at this current location, and we love the Vinland, Baldwin community and the great people that work for us here," McFarlane said. "And we decided it was best for the long term of the company to stay in this location."