Local 4-H'ers successful at Douglas County Fair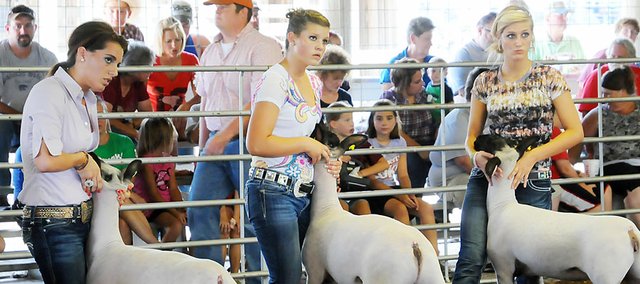 Taylor Stanley was one of many Baldwin City area 4-H'ers to have success at the Douglas County Fair last week.
Stanley, a member of the Vinland Valley 4-H Club and a senior at Baldwin High School, had a highly successful sheep show at one of her final fairs. She won numerous awards at the sheep show last Thursday.
"I did very well," Stanley said. "The show is lacking in numbers, but it was still good. I was still surprised with how well I did. We had a good judge."
Her awards included grand championship showmanship, supreme champion ewe and champion commercial ewe. Last year, she won reserve grand champion showmanship for the sheep show.
"It's pretty tough every year," Stanley said. "It gets tougher at the state fair. It's a bit harder, because I'm one of the youngest in the age group."
Stanley, like dozens of the 4-H'ers and hundreds of the visitors to the fair, endured the heat early last week. Temperatures peaked at 111 degrees on Aug. 2, but cooled down to the 90s for the remainder of the week.
"It was fun," Stanley said. "It was too hot Tuesday for any of the animals and people. It was a pretty hot week actually. There were a couple rainy mornings that were nice, but all in all, in the afternoons it was horrible. It was really bad for the animals."
Michaela Krysztof, a Palmyra 4-H Club member, finished her last county fair this year. She said this year was one of the hottest in memory, especially early in the week.
"The worst day was Tuesday, which was the first day there for all of the animals," Krysztof said. "After that it wasn't terrible. There was some rain, which helped it. But it was a hot week."
Krysztof also enjoyed success at last week's annual fair. It was her final and the final for a long run of Krysztofs, as she is one of four sisters. She competed in the food competition and her kolaches, a fruit-filled pastry, won reserve grand champion.
"I had a good last year with my cooking," Krysztof said. "It was exciting to go out like that."
The Douglas County Fair ended Saturday with the annual livestock auction. Stanley told her one of the buyers commented to her that this year was the best auction he's been to, as far as quality. However, selling the animals is hard on the 4-H'ers.
"It's really hard, especially to watch other people give them away," Stanley said. "It's hard to see them go away, because you work with the animals almost, if not, every day."
The memories of the hard work and the weeklong event, make the auction forgettable as the school year approaches.
"It's fun to hang out with friends, but I stayed pretty busy watering and taking care of the animals," Stanley said. "It's a fun time all week."
Now, many of the 4-H'ers will be starting school soon. Stanley will be starting her final year at BHS, while Krysztof will be a freshman at Kansas State University. They will miss the fair…until it rolls around next summer.
"I watched the beef show all day," Krysztof said. "I also showed a goat for the first time. I stopped by the llama and chicken shows. I didn't have an animal, but I went up every single day, because I love it.
"I had a lot fun seeing everyone. I love the fair family, because it's all of the county people and everyone is really happy to see each other. It was definitely sad saying goodbye to everyone, because the next time you usually see them is next year at the fair. That was hard."