BHS

graduates fight through 'wall' during first marathon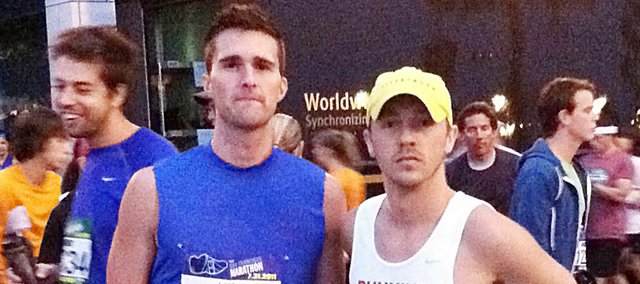 Eric Jorgensen and Nick Nelson's hardest step of their 26.2-mile race on the west coach wasn't their final step across the finish line.
It was a small step up a curb near the 25-mile mark of the San Francisco Marathon. As the pair of Baldwin High School graduates, who live in Lawrence, passed by AT&T Park, home of the San Francisco Giants, their challenge lie before them.
"There was one step I will never forget," said Nelson, a 2003 BHS graduate. "There was this eight-to-10-inch curb that we kind of had to hop up on to. It took everything we had to get up that curb. It hurt."
Making the short step up onto the curb harder was the fact that both men hit the "runner's wall" shortly before reaching the stadium. Jorgensen hit the infamous wall around mile 23, while his running partner lasted about 1.5 miles longer before slowing down.
"On our 20-mile training runs, we felt miserable at the end," Jorgensen said. "We could barely walk, so we would ice bath after the run. At the 20-mile mark of the race, minus my heels, we felt fine and decided to kick it in. We ran the next three miles 1:30 faster per mile.
"Then at mile 23, it hit me," he said. "I grabbed some electrolytes at the station, but I felt different. I told him, 'that's all I got man. The rest is going to be a struggle.' It hit him in another mile or two."
Before the July 31 marathon, neither man had traveled further than 20 miles on a run. They knew the final six miles would the toughest and they weren't about to walk with less than two miles remaining in the race.
Instead, they gutted out the final stretch of one of the nation's toughest marathons. They even had the strength to sprint past opposing runners during the final steps.
"One thing I would joke about, but I was serious, during our runs was to sprint the finish, no matter how tired you are," Jorgensen said. "I asked him if he wanted to sprint, because I was tired. He said, 'yeah, we should.'"
They had to finish the race like their training runs.
"We went as fast as we could the last 100 meters," Nelson said. "When we saw the video after the race, I felt like we were going faster. On the video, we were just jogging."
Jorgensen and Nelson finished the marathon in 4 hours, 32 minutes. While they knew their time wasn't incredible, they paced themselves well enough to update Facebook and Twitter on their phones during the race.
"We thought it would be fun to do a lot of social media with it," Jorgensen said. "We decided we were going to run together, no matter what, and we were going to run slow. We decided to stick together, take in the scenery, enjoy the first one as much as we can and finish as a team. Since we decided to go slow, I decided to Facebook and tweet as we were going. I even took pictures."
The BHS graduates and friends are the second BHS alumni pair to complete the San Francisco Marathon in two years. Husband and wife, Kit and Sarah Harris, raced last summer.
K. Harris was Jorgensen and Nelson's English and journalism teacher at BHS. He's kept in touch with his former students — before, during and after the race.
"When I was thinking about signing up, I asked him if he liked it and how difficult it was," Jorgensen said. "He said he loved it. He immediately began telling stories. He remembered it like it was yesterday."
Nelson was also thankful for K. Harris' help with the training and race.
"He texted us days leading up to the race," Nelson said. "He gave us suggestions and tips for the race. He also commented on our Facebook posts during the race and gave up pointers for what was ahead."
K. Harris was happy to help his former students. It was their first marathon, as was his last summer.
Triathlon transition
Before completing their first marathon, Jorgensen and Nelson were used to athletic competitions that involved running, swimming and biking. Nelson did run the Kansas half-marathon in Lawrence last spring, but at the time, that was the farthest he wanted to run.
That changed near the end of May.
Jorgensen came to him with an idea. He wanted to complete a challenge and the location was already chosen.
"It's like bungee jumping or skydiving," Jorgensen said. "I figured it's something I should check off my bucket list. When we do triathlons, running was always my strength, because I did cross country in high school. I wanted to try one, but I had to find the right one at the right time of the year.
"I've wanted to pick one where I had four months of Lawrence running weather to train," he said. "The San Francisco one was at the end of the summer and it would be cool weather. Everything about it was perfect, except for that it's known as the marathon that marathon runners fear."
Jorgensen signed up to run with his younger brother, Ryan, but his brother became injured during their training. He wanted another training partner and someone to complete the marathon with, so he turned to Nelson.
"I've been keeping in shape to do triathlons," Nelson said. "I hopped on his training program a little late, but I was in good shape."
Normally, switching runners who are already registered isn't allowed. However, Jorgensen contacted a race official, who had ties to Kansas.
"One of the organizers is from Lawrence," he said. "I agreed to be an ambassador for them, so I would blog and promote the San Francisco marathon. The girl said she was from Lawrence, so we got in good. You're not supposed to be able to switch runners, but she said it wouldn't be a problem."
They began training in Lawrence. Jorgensen found the marathon course map online and researched it extensively. He discovered where the uphill challenges lie and which miles would be the toughest.
Together, they trained according to how the race would go in San Francisco. They found no shortage of hills in Lawrence and around the Kansas University campus.
"Lawrence is a good place to train," Nelson said. "There are hills everywhere and we would run through (KU) campus. I also think that because it was so hot here for the past month, that by the time we got to San Francisco, the weather was perfect. It wasn't humid and the temperature was in the 50s when the race started."
Post-race thoughts
Most people will say finishing a 26.2-mile race is hard. Those who run one of the hardest marathons in the country will definitely agree with that sentiment.
"I'm guessing every marathon hurts," Nelson said. "But this one hurt a lot, because of the hills. Now, the next one should be easier."
Jorgensen agreed.
"Running that was like swinging a bat with the donut on," he said. "The next one is going to feel like we're sprinting."
The motto on the race shirts said, "Worth the hurt." The pair of former Bulldogs and Jayhawks couldn't say it any better.
"It was as hilly as everyone said it was going to be," Jorgensen said. "We trained on hills. We knew the map, so we mapped out runs that involved hills at the same mileage as the course. Lawrence is hilly, but San Francisco is way more hillier."
There were some positive experiences out of their trip to California.
"I'd never been to San Francisco," Nelson said. "So it was cool that my very first time there, I ran across the Golden Gate Bridge twice."
For Jorgensen, it was completing a challenge with a buddy.
"I don't know if it was the best experience of my life," Jorgensen said. "It was one of the best athletic experiences of my life. It was a lot of fun and I'm glad I got to do it with a friend."
Have they thought about running another marathon? Of course. They were discussing that shortly after finishing their first. Possibly locations could be St. Louis, Houston, Los Angeles, Las Vegas or back in San Francisco.
"I think he would agree with me, after the first one, it's a strange addiction," Jorgensen said. "It's like a tattoo. After I got my first tattoo, I wanted another one. After we ran that race, we were already talking about running the next one."