USD

348 enrollment experiment draws larger numbers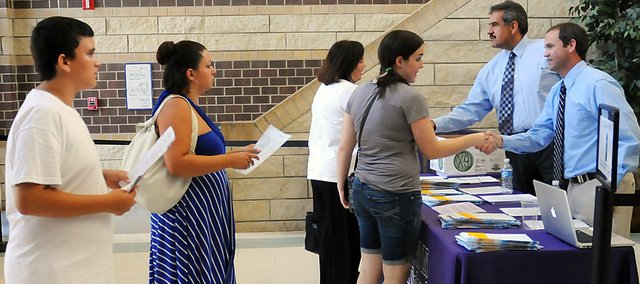 Although it made for a long day for dozens of USD 348 employees, all four building administrators were pleased with the results of last Thursday's district-wide enrollment day.
The four Baldwin School District school principals reported a higher percentage of students enrolled. Parents and students had from 6 a.m. until 9 p.m. to take care of the annual business. In past years, that time has been broken into morning and afternoon sessions, but the all-day process was used this year as an experiment.
"It was a lot better than normal," said Dan Wallsmith, Baldwin Elementary School Intermediate Center principal. "We enrolled 94 percent of our students on that day. We usually run about the 65-70 percent, so it was much higher this year."
Baldwin High School and Baldwin Junior High School staffs didn't enroll that high of a percentage, but they were still pleased with the turnout.
"We had a few more enroll this year than in the past," BJHS Principal Tammy Thomasson said. "Our lines were much shorter and so the flow was much better. Last year, we had times were people were waiting nearly two hours. This year, the longest line we had was 10 minutes. The district office sent people to our buildings, so the additional staffing also helped quite a bit."
First-year BHS Principal Rob McKim said everything ran smoothly at his school. McKim and new assistant principal Frank Perbeck greeted parents and students as they entered the school, which was beneficial for the administrators, parents and students.
"I thought it went pretty well," McKim said. "Both Frank and I got a chance to meet quite a few parents and some students. Our staff said they heard from several people that it was nice that we were out front. It was nice to be out front and meet the new faces. Hopefully, we remember all of the names and faces. I was also very thankful for the staff members and students who volunteered."
All four buildings have made adjustments to make the enrollment day quicker for parents. At BJHS, they've gone to a packet system, where all of the required information is in a packet for each student. In the past, parents and students needed to stop at separate tables to pick up each bit of information.
BHS has different stations for athletics, clubs and the yearbook. The various stations and pay stations helped get parents and students in and out faster.
However, the old hours limited the time students could enroll. The times conflicted with work, vacation or the Douglas County Fair. For the majority of parents, that didn't happen this year. They took advantage of the 6 a.m. start and 9 a.m. ending.
"The extended hours made everything run a lot smoother," Thomasson said. "We had people showing up at 6 a.m. and the last person showed up at 8:50 p.m. We had people walking in as soon as we opened the door.
"It was absolutely worth it, because I think it accommodated more parents. The time also allowed those people who had to hit multiple buildings."
Deb Ehling-Gwin, Baldwin Elementary School Primary Center principal, said her school had a steady crowd all day, starting with the five families ready to enter with the doors opened at 6 a.m.
"It ran smoothly," she said. "It was a long day for our staff. It was a good day, and we enrolled most of our students."
Wallsmith said the BESIC staff tallied how many students were enrolling hour by hour. The busiest hour for them was 10-11 a.m. They had a 24 parents enroll their students before 9 a.m. and 17 after 7 p.m.
"Our goal was to get more people on that day, and it worked from our building's perspective," Wallsmith said. "We normally spend a lot of time after enrollment tracking everybody down, and we did that in two hours this year."