Cast enjoys Broadway at Baker summer finale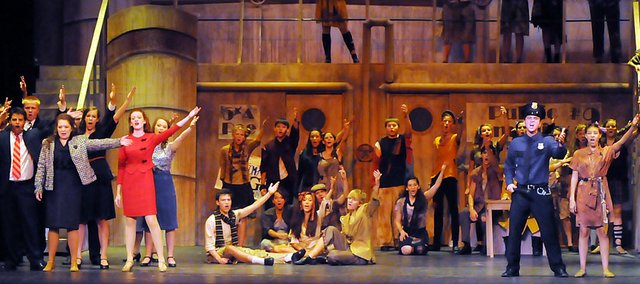 Seven days after finishing one musical, Anthony Fortino was back at Baker University for another week-long theater camp for a vastly different type of performance.
Fortino, who recently graduated from St. Thomas Aquinas in Overland Park and will be attending Texas Christian University, played the criminal Moonface Martin in "Anything Goes" during the first Music Theater for Young People and Broadway at Baker musical. On Sunday, Fortino's role was on the other side of the law, but he was still one of the antagonists.
On Sunday, Fortino played Officer Lockstock in the musical "Urinetown." He was the head police officer in a town where the residents were forced to pay to use the restroom.
"I loved the role of Officer Lockstock," Fortino said. "He's the narrator of the show, and he also gets to be part of the show as well."
Sunday's performance was Fortino's second with the Broadway at Baker group, but he's been in seven MTYP shows. Learning and performing in two vastly different shows in three weeks wasn't too challenging for Fortino.
"It wasn't hard at all to be in two musicals in three weeks, because it was so fun," he said. "The people involved in the organization and the friends and skills you make along the way make everything worthwhile. I'd have to say "Anything Goes" was harder to memorize, because I had more lines that were more widely dispersed."
Fortino was one of 14 actors who performed in both summer musicals. The others were Emma Marston, Tanner Rose, James O'Connor, Trevor Frets, Tori Citro, Nick Pelaccio, Scott Hampton, Erin Moylan, Melanie Bosley, Max Agadoni, Olivia Mansfield, Abby Cramer and Mayme Marshall.
"It was a big commitment on their part, but that's where they wanted to be," director Cary Danielson Pandzik said. "We were happy to have them all back for the second show."
Sunday's musical was arguably more popular with the cast and crew than the first. The twisted comedy was a big hit with the cast.
"It was a great show," Danielson Pandzik said. "It was very, very successful. We loved it and it was as good as we knew it could be. It's a little hard to appreciate that kind of humor. It's very satirical. We thought the audience enjoyed it.
"I think the highest level of talent came that we've ever had. We had a lot of seniors and actors who were talented and experienced. Combine those with our new ones and we felt like it really culminated in a big talent pool this time."
Cast members said the unorthodox musical was fun.
"I absolutely love 'Urinetown' for almost every aspect of it," Fortino said. "The music is incredibly powerful and fun to sing, the script is brilliant and satirical and the plot is creative and ridiculous. 'Anything Goes' is a classic, but I loved getting to do variety and being involved in 'Urinetown.'"
Daria LeGrand, who played Hope Cladwell, the musical's protagonist, had a blast with her third Broadway at Baker musical.
"I definitely enjoyed playing Hope Cladwell," LeGrand said. "It was challenging, yet fun to develop a character in a wee, and I feel like I learned a lot from the process.
"'Urinetown' is one of the funniest musicals I've done," she said. "The music is fun and catchy, there are lots of crazy characters to play and the script is brilliantly written."