American Legion baseball squad ends season at state tournament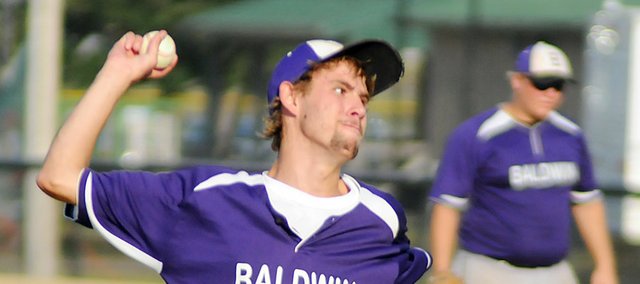 OTTAWA — Baldwin City's run in the American Legion AA baseball tournament didn't last long a week ago, but the coaches hope the experience gained benefits the Baldwin High School players next spring.
The Baldwin team lost to Ottawa 17-7 last Thursday. The Bulldogs' (16-18) season ended with their second loss in the eight-team tournament.
"On Thursday, they played hard and tried as hard as they could," coach Jay King said. "It just didn't turn out to be a win for us. I'm very proud of the guys. They fought through a lot of things.
"They wanted to do well, but I think the guys got exhausted from all of the things they've been doing all summer," he said. "They've been doing football, basketball and baseball most of the summer. We asked a lot out of those guys and they played hard."
Although the result wasn't what the Baldwin players wanted, senior Colton Bonner was proud of his teammates.
"It was a great time," Bonner said. "It was a first for Baldwin High School to get to state baseball in anything. We've never made it in legion or in the school season. It was quite an accomplishment to make it. I'm proud of how we played, even though it didn't end up like we wanted it to. We tried hard and we'll get it next year.
"We did fine for the age group we had," he said. "We battled hard against a lot of older kids on other teams. We played hard."
Baldwin began the tournament by playing Seneca, who entered the state tournament 27-3. Baldwin managed only two hits during the four-inning game. Seneca won 4-0, before going on to beat Ottawa 17-5 later in the tournament. Seneca lost to Pratt, 3-0, in the championship game.
"On Wednesday, I think we were nervous to be playing those teams that were a lot older than us," King said. "On Thursday, we came out and played more focused, but Ottawa was hitting the ball really well. We fought back and got back in it at 11-7. I'm proud of them for fighting back. We were just overmatched a little bit, because of the age different. All of those teams had guys that came back after one year of college and most of our team is 16 and 17 year olds."
Although Baldwin failed to win a game in the tournament, the coaches were happy to see the team play well in its zone two weeks ago and qualify for state.
"I think they had fun just going to state," King said. "It's the first time in the program's history. They really responded well."
King and head coach Brian Turk hope the summer success will turn into wins next spring for the Baldwin High School baseball team.
"Going to the state tournament this summer should pay big dividends next spring," King said. "They've had a taste of a state tournament and they know what they need to do to get back there. Winning our zone is going to do more for us, because we beat a team like Bishop Ward twice. I think that's a real confidence booster. Just getting to the state tournament is a great accomplishment and they have nothing to hang their hats on."
Bonner agreed with his coach.
"This should definitely help," he said. "We're all looking forward to it. We're going to have a lot of seniors on the team who will bring this summer experience with them next spring. We're going to do some good things for sure."