Wellsville resident writes book during Iraq deployment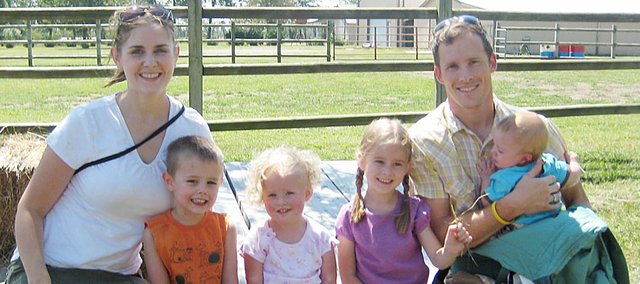 Kevin Jones' children's book "A Lamb Named Ewe" was not written for the world to see.
It was for his four children, Matty, now 6, Sylas, 4, Ellie, 2, and Asa, 1, to see at a time he could not see them. Now, along with the rest of the world, his children can see Jones' picture on the back of a published book.
Jones, a real estate agent in Wellsville, was deployed to Iraq as a member of the 1st Special Forces Group of the United States Army. He decided one of the activities he would pick up in his down time was writing.
The soldier began writing a leadership book, as he has a master's degree in ministry leadership, but soon realized the difficulty in writing a book. His wife, Nicole, then suggested he write some children's books for his kids. He wrote "A Lamb Named Ewe" in a two-day span, and later decided to send it to a publisher. Several months later, the publisher chose to publish the book. Jones ended up writing about six books while in Iraq.
"The cool thing is it transcends generations … it can actually reach more people than I personally can reach," Kevin said. "And that's pretty exciting. It's just kind of a neat thing."
Jones was a pastor for nearly eight years before joining the military, and the inspiration for the book "A Lamb Named Ewe" was partly based on the parable of the Good Sheppard leaving his 99 sheep to look for the one missing sheep. The author said the book is also about trust and him being gone from his family. The word "Ewe" can be replaced with "you" throughout the book to give a more personal meaning.
Nicole Jones said books are a great medium to reach out because "one person can write something, and out of that, you know, hundreds and thousands and maybe even millions can be influenced."
The entire process of getting the book published took about a year. Jones was given the first manuscript four or five months ago. He then sat down to read it to the audience it was intended for all along, his children.
"It was surreal to read it to them, but it was awesome, and even still now that we have the books, they want me to read it to them all of the time because it's their book," Kevin said.
His wife said the children's favorite part is getting to the end of the book and seeing their father's picture.
Kevin does not have large amounts of free time with a full-time job and family. However, he makes sure to reserve time to write every day, with coffee every morning as the sun rises.
"It has actually really become something that I want to do so much that it's not hard, it's actually disappointing when I don't get to do it," he said. "So, finding that time is just, really it's got to be when nothing else is around, at least for me, when nobody else is around."
Kevin is still pursuing writing leadership books, but will not forget about children's books. He is considering making the "Ewe" theme into a series of books.
"It's a huge influence in my life right now, you know, with all of our kids being young right now," he said. "Ultimately, I want to write and I love speaking and I'd like to be able to, you know, write and travel and speak and inspire and teach."
Kevin will continue to write, both for his children and for the public, knowing the tedious process has a greater outcome.
"If somebody wants to write a book, it is hard, don't get me wrong, it's freaking hard, even a children's book is hard and the process is long," he said. "But if you can do it. It's historical. When I die, that book will still be there."