Elementary students help artist's mascot take flight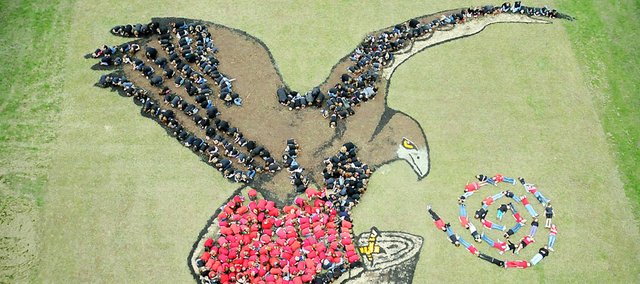 Daniel Dancer had to return home to Kansas, where his Art For the Sky concept began, to complete his mascot — a red-tailed hawk.
A pair of USD 348 elementary schools made his longtime dream a reality last week. On April 20, Baldwin Elementary School Intermediate Center and Baldwin Elementary School Primary Center students created Dancer's mascot, which no other school had done in his 10 years of conceptual art.
"He said it felt like he was coming home," Christi Darnell, BESPC/BESIC PTO/CSO president said about Dancer. "His great-grandfather went to Baker University. So I think he had a very nice experience."
Dancer, a conceptual artist who takes photographs involving students and nature, created his Art For the Sky concept 10 years ago. Since then, he's wanted to photograph students portraying a red-tailed hawk.
That opportunity became a reality last week. The red-tailed hawk, which is common in Kansas, was created in Baldwin City.
"It's kind of my mascot for Art in the Sky," Dancer said. "It comes from the song, 'wings to fly.' I've always talked about the red-tailed hawk and I can't believe it's taken me 10 years for a school to do one. It's appropriate that it's here in Kansas, because that's where I fell in loved with the red-tailed hawk."
He wasn't shy about expressing his feelings about how the photograph looked, either.
"I really liked it," he said. "I was worried about this one, just because it was more complicated than some others. It turned out really nice."
On April 20, about 450 students filled the lawn north of BESIC. They dressed in black, red and tan colored shirts as they filled the hawks' wings and tail, as well as the spiral of life represented in the photograph.
Before the photo was taken, a live red-tailed hawk was shown to the students and staff. The hawk has been rehabilitated at the Prairie Park Nature Center in Lawrence. It was injured and rescued, but will not be able to be released into the wild because of its injuries.
The next day, a representative from Operation Wildlife in Linwood brought another live red-tailed hawk for the assembly at the BESPC.
"It was a blast," Darnell said. "It was an amazing event. The kids had a great time. Their faces were full of smiles and laughs. Having a real red-tailed hawk, a 100-foot crane and being outside while being part of a red-tailed hawk is the formula for a good time."
Elementary students, parents and Dancer all helped design the hawk. They used black and red mulch, sand and other materials to build the basic design for the project.
Dancer incorporated school curriculum into the project. He taught the students math by taking a small picture of a hawk and making it large scale. Along with learning artistic skills, Dancer also taught the students to see the world from a "birds point of view", because it might help learn more about the world and how to solve its problems.
"I wanted our children to have the experience of working with a world-renowned artist, who does art that reflects taking care of each other and the Earth," Darnell said. "Plus it was two days before Earth Day. It just seemed to all fit."
Coming to Baldwin City
It was no accident that Dancer wound up in town last week. Darnell and other members of the PTO/CSO planned the event. Darnell started the planning that brought Dancer to the smallest city he's ever visited to do Art For the Sky.
"One of my best friends is on the PTO at Schwegler Elementary in Lawrence and they had him at their school two years ago," Darnell said. "They had such a great experience that they invited him back again, but they secured a grant this time.
"He was looking at doing this at another school," she said. "He was willing to give a school in this area an opportunity to be a part of this. We were able to piggy-back off of their grant, so we got him for a significantly less price. I jumped at that opportunity."
On Tuesday, Schwegler Elementary School was scheduled to design a meadowlark. The students designed a tree when Dancer first visited their school.
It was Dancer who suggested that the Baldwin City schools try the red-tailed hawk. He said they were eager to try it.
"The PTO/CSO strives to provide amazing educational activities that also enhance our school community," Darnell said. "Daniel Dancer's Sky Art event met both of these goals. The children in Baldwin worked together to create a giant living art project that taught them music, science, math, and about the environment."
How did this start?
Although Dancer's Art For the Sky originated 10 years ago, it didn't appear out of thin air. After attending Kansas University, Dancer traveled to South America, where he became fascinated with sky art, having viewed the famous Nazca Lines of Peru.
Upon his return toKansas, he began working as a freelance artist with world-renowned crop artist Stan Herd. One of Herd's designs was a 25-acre face of a Native American. Dancer had the idea of using students with red and blue T-shirts to become the headband in the design.
One day, 25 years later, Dancer ran into one of the students who participated in the Native American crop design. The man told dancer that event was the one event he remembered from school and it taught him to see the importance of seeing the bigger picture in life.
"The proverbial light bulb went off in my head and I started doing it in schools," Dancer said. "In the first year, I did two schools and last year I did 20. It's really grown."
Since creating his Art For the Sky, Dancer has traveled to 30 states, Holland, India, Australia, Canada, Mexico, Dominican Republic and England for his projects.
"My goal is to do one in every state, eventually, and as many countries as possible," Dancer said. "I like to travel."
One of the more difficult projects was in Chicago in January 2009. The students at the school designed a portrait of President Barack Obama, who was to be inaugurated a week after their project.
Although Dancer will continue to travel the country and world designing animals and symbols, he can only say his mascot was designed once — here in Baldwin City.
"It was a homecoming," he said. "It was a perfect place to do the red-tailed hawk."