BHS

girls track team improves during five-day, three-meet stretch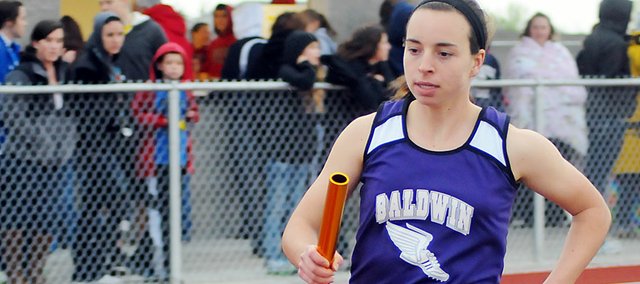 Baldwin High School's girls' track and field team has been busy since a week ago competing at three meets, but good performances happened on the track and in the field events.
The Bulldogs began the week at the Cardinal Relays last Thursday in Eudora. Then a handful of the athletes competed in the Kansas Relays on Friday and Saturday in Lawrence. The Bulldogs finished the busy weekend off with the three-team Spring Hill Invitational.
"We've been busy," coach Ted Zuzzio said. "We've had girls competing everywhere. It makes you proud to see our girls competing every meet."
Baldwin began the week with a dominating victory at the Cardinal Relays. BHS scored 197.5 points to win the meet. Eudora finished runner-up with 70 team points.
"We had a monster meet at Eudora," Zuzzio said. "Everyone lined up and did extremely well."
Baldwin won 11 of 19 events at Eudora. BHS won all four relays. The 400-meter relay team ran 52.0. The team members were seniors Myranda Behrens, Lyndsey Lober, Sammi Meisenheimer and Ramie Burkhart. The Bulldogs' 1,600-meter relay team ended the meet by running 4:19.4. The team members were Lober, freshman Morgan Lober, sophomore Kaitlyn Barnes and sophomore Elena Watson.
Baldwin also dominated the 3,200-meter relay, as it ran 10:02.9. The relay members were Barnes, freshman Hannah Hutton, junior Carol Whaley and M. Lober. The Bulldogs' throwers relay won its race, too.
"Elena Watson and Hannah Hutton stepped in for us," Zuzzio said. "They both filled in nicely in two relays."
The Howard sisters each won a throwing event. Senior Allison Howard threw 110-feet to win the discus. Sophomore Monica Howard won the javelin with a toss of 111-10.
On the track, the Lober sisters each won a race. Lyndsey won the 100-meter hurdles as she ran 16.4 seconds. Morgan earned a victory in the 400-meter run. Her time was 1:02.7.
Burkhart won the 300-meter hurdles. She ran 48.5 to beat Behrens and M. Howard, who finished second and third. In the 800-meter run, Whaley ran 2:35.9 to win. Freshman Katie Jones finished less than a second behind Whaley as she placed runner-up.
In the 100-meter dash Meisenheimer brought home gold. She ran 13.4 to win the race.
"Eudora was an element meet, where it was raining or misting most of the night," Zuzzio said. "It was also a bit chilly. It was our second rainy meet in a row, so we're getting acclimated to it. You can't have your best times in those conditions, but we did have some really good performances."
Sophomore Sienna Durr finished runner-up in the 3,200-meter run. She ran 12.17.8, narrowly losing to Eudora's Danelle Topil, who won in a time of 12:14.
"It felt really good," Durr said. "I felt strong throughout the whole race. It was a cold weather day, so it was nice to run and be able to breathe. I had Danelle Topil to run with the whole time. We are in the same grade and we've ran each other since junior high. It was kind of nice to run with her. I've never beaten her, but this was the closest I've ever come."
Baldwin then headed to Lawrence to compete in the prestigious Kansas Relays on Friday and Saturday.
Leading the way were Baldwin's two steeplechase runners. Junior Abi Hartzell and freshman Katie Jones placed fifth and sixth out of 11 runners in the 2,000-meter steeplechase. They ran 8:16.09 and 8:19.97.
A. Howard placed ninth in the discus out of 23 girls. She threw 119-7. Barnes finished 19th out of 35 runners in the 800 run. She ran 2:25.72. L. Lober ran the 100 hurdles in a time of 16.49 and placed 23rd out of 37 runners.
Baldwin's 6,400-meter relay team finished 11th out of 14 teams. The Bulldogs ran 23:35.84. The team members were Durr, Jones, Hartzell and Hutton. BHS also placed 23rd out of 40 teams in the 400 relay.
The Bulldogs' 1,600 relay team ran its best time of the season, 4:09.12, and finished 17th in prelims on Friday. They came back with a slightly different lineup Saturday and finished fifth (4:12.14) in the Sunflower Showdown.
"At KU, our highlights were our two steeplechase runners," Zuzzio said. "They both medaled. The mile relay ran 4:09, which is our fastest time of the year."
On Monday, several of the Bulldogs competed at Spring Hill. Sophomore Jessie Katzer won all three throwing events. She threw 33-10.25 in the shot put, 93-1 in the discus and 102-10.5 in the javelin.
"Jesse Katzer had a big meet," Zuzzio said. "She's starting to really improve and throw well for us."
Alicia Lytch won the 100 and 200 dashes. She ran 13.74 and 28.5 to win the sprints. Junior Elizabeth Sigvaldson ran 1:04 to win the 400 dash. It was her first meet in nearly two weeks.
"We had some kids that had to sit out, because they participated in the KU meet," Zuzzio said. "The kids that we had compete went over there and did extremely well."
Baldwin will now be competing in just one meet a week. BHS will travel to De Soto Friday for a meet. The field events start at 3:30 p.m. with prelims starting at 4:30 p.m. and finals at around 6 p.m.
"We will now be back on a normal schedule," Zuzzio said. "Hopefully the weather will be a little bit more conducive to faster times. The biggest thing right now is that our kids are competing and they are competing well."