Austin breaks 50-foot mark to lead
BHS

boys during busy weekend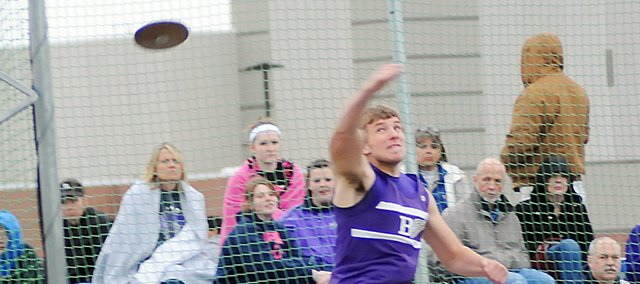 Jesse Austin wants to own the Baldwin High School boys' shot put record, which has been in place since 1999, but first he had to break through an all-important barrier.
BHS graduate Aaron Anderson set the record of 52-feet, 6 inches during his senior year. Austin came into his senior year with the dream of breaking the record. That dream are still obtainable and he made a big step toward last Thursday at Eudora.
Austin won the Cardinal Relays with a throw of 50-8. He won by more than two feet, but more importantly he reached the 50-feet mark.
"I could tell when it came off my fingers that it was a good one," Austin said. "It wasn't a perfect throw, but I knew it was good. It was nice to get passed 50 feet, because that line's been laughing at me. I have been close. I had one throw that was 51 something, but I fell out of the front. I knew it was there. I just had to do it. I'm still not as consistent as I am in practice."
Austin threw his personal best at the first meet when he set the mark at 49-4.5. He improved that by five inches when he threw 49-9.75 at the Baker Relays. Austin hadn't thrown at a meet since April 12 until last Thursday's Cardinal Relays. His know what he wants now that he knows it's possible.
"I don't want anything under 50 right now," Austin said. "We've got five meets left so it's time to start throwing better."
Last Thursday's Cardinal Relays were the first of three meets for the Bulldogs during a five-day stretch. The Bulldogs never competed as a complete team at any of the meets, because of injuries and the number of allotted meets in a season.
Some Bulldogs competed at the Kansas Relays, but missed the Cardinal Relays or the Spring Hill Invitational on Monday, while others didn't compete in Wichita on April 15, so they competed at all three meets. It was a wild five-day stretch for coach Mike Spielman, but he was happy with the performances each day.
"We had three meets in a five-day period," Spielman said. "It was good, because we got to figure some things out. We had some good performances in there, too. We never had the full squad together at one of the meets, but those that went competed well for us. We also had some younger kids get a chance to step up and run varsity for us."
Also winning at the Eudora meet were sophomore Dayton Valentine in the discus and the Bulldogs' 400-meter relay team. Valentine threw 141-9 to narrowly win the discus. He placed third in the shot put, while Austin finished third in the discus.
Baldwin's 400 relay team ran 44.8 to win its race. It was the only race for several Bulldogs. The relay team members were senior Carson Barnes, junior Asher Hannon, sophomore Mark Harman and freshman Chad Berg.
"We just ran the 4x100 guys just in that race to give them a bit more practice before the KU meet," Spielman said. "The throwers did a really nice job at Eudora."
Sophomore Austin Kraus finished third in the 110-meter hurdles. He ran 16.7 to place third. Kraus won the 110 hurdles at Spring Hill as he ran 16.69.
"Austin Kraus ran well in the hurdles at Eudora and Spring Hill," Spielman said. "Those meets have given him a chance to run well. He's stepped up for us."
On Friday and Saturday, the Bulldogs headed to Lawrence to compete in the Kansas Relays. A handful of athletes and relays were chosen to participate in the exclusive meet. Baldwin's highest-placing individual was junior Tosh Mihesuah. He finished fifth in the 2,000-meter steeplechase as he ran 6:46.41.
Valentine placed 15th out of 23 throwers in the discus. He threw 139-9. Austin finished 23rd out of 34 throwers in the shot put with a mark of 49-9.25. Barnes finished 10th in the long jump. He set a mark or 20-9.75.
In the running events, Barnes finished 19th out of 36 competitors in the 300-meter hurdles. He ran 41.56. Junior Brian Wright ran 4:34.03 in the 1,600-meter run and placed 30th out of 38 runners.
Baldwin's 1,600-meter relay team placed 20th in the prelims race. BHS ran 3:29.66, which was fast enough to qualify for the Sunflower Showdown on Saturday. The relay members were Barnes, Hannon, Berg and Wright. On Saturday, the relay finished seventh, running 3:34.14. Mihesuah replaced an injured Berg on Saturday.
"The 4x400 making the Sunflower finals was nice," Spielman said. "Carson had a nice long jump and was very close to making finals. Dayton and Jesse were close to their PRs in their events and that's good because the pressure is turned up at a meet like KU."
On Monday, a handful of Bulldogs competed at Spring Hill. Baldwin's winners were Austin (49-6 in shot put), Valentine (148-6.75 in discus), Wright (10:08 in 3,200-meter run), freshman Ethan Hartzell (4:45 in 1,600) and senior Kyle Garcia (2:15.5 in 800-meter run).
Baldwin also won the 1,600 relay and finished runner-up in the 400 and 3,200 relays. Mihesuah placed second in the 3,200. Austin finished second in the discus, while Valentine placed second in the shot put. Sophomore Caleb Gaylord finished second in the javelin. Hannon also placed second in the 100-meter dash.
"We ran a little more than we did at Eudora," Spielman said. "We also had some kids do some different events. Brian ran a really nice two mile and Ethan ran a nice mile. Asher ran well in the 100, too. It seemed like the kids that we put in some different events competed well."
Baldwin will now be competing in just one meet a week. BHS will travel to De Soto Friday for a meet. The field events start at 3:30 p.m. with prelims starting at 4:30 p.m. and finals at around 6 p.m.
"It's once a week now," Spielman said. "It will be nice to get in more of a rhythm. Plus, we can get some more practices in now, too."