Midnight Farm hosting Family Fun Day on April 30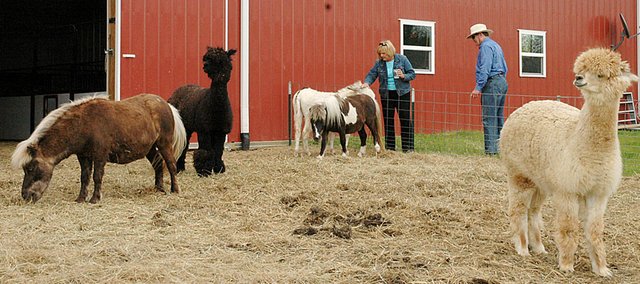 CLO's Midnight Farm is hoping to start an annual tradition with its first Spring Family Fun Day from 10 a.m. to 3 p.m. April 30 at Midnight Farm.
The events will include pony and wagon rides, horses and petting animals, a flower and plant sale, games, food sold by Cutter's Smokehouse and a performance by the Wild Women of the Frontier.
Midnight Farm, 2084 N. 600 Rd, was given the Horizon Award at the Baldwin City Chamber of Commerce banquet in March, and Linda Wheatley, senior administrator for CLO, said this is a good chance for people see the difference they could make at the farm.
"I think it's a wonderful opportunity to show what Midnight Farm has to offer and also what CLO has to offer and the abilities that all individuals have to give back to the communities and give opportunities to their communities," Wheatley said.
Although the plants for the sale have been growing since the first of the year, the rest of the day has been in the works for the past six to eight weeks. The day is free for adults, $5 for an all-day kids pass and a maximum price of $20 for a family. Organizers have a goal of about 250 families attending the day after hearing feedback from the community.
Wheatley said the intent was to make the day an annual event, which would provide visitors an opportunity to learn how to become involved in other farm events throughout the year.
"I think we'll do, and this might change, but do the one-day event and then spring board off of that to other opportunities for people to come out and get involved," Wheatley said.
Along with enlisting the help of many area clubs, including the Kiwanis, Lions and Rotary clubs, the day will be a chance for those in attendance to learn more about the organization.
"We'll have a lot of information about our other programs and our future growth plans, so it's going to be an informational day, too, as far as Midnight Farms and CLO," Wheatley said.
Heritage Tractors and Cutter's are two organizations that have worked with Midnight Farms in the past and will be in at the fun day April 30.
"Last year we had over 9,000 volunteer hours at Midnight Farms," Wheatley said. "So, it's a big part of who were are, and we find that the volunteers love and enjoy it very much and are eager to come back."