Carson Barnes wins pentathlon to lead
BHS

track teams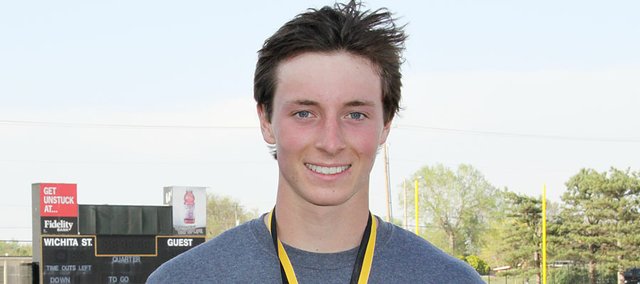 Carson Barnes was back competing in his true element — track and field multi-events — last Thursday at the Shocker Pre-State Challenge in Wichita.
The Baldwin High School junior who used to compete in the heptathlon and decathlon during the summer months, got his chance to do it again during a high school meet. Last week's Wichita State University meet offered the pentathlon for boys and girls.
Barnes, who was leaving Friday for the Real World Design Challenge in Washington D.C. on Friday, was only able to compete at the track and field meet Thursday. His opportunity came knocking and he took advantage of it.
Although his last multi-event competition was in the summer of 2009, Barnes had no trouble competing in the 110-meter hurdles, long jump, shot put, high jump and 1,500-meter run. He scored 2,956 points to win the event against competitors from schools of all classes.
"It was exciting," Barnes said. "I've never done one in high school, so it was really exciting. I didn't really know who the competition would be. It was pretty tough and the competition was good.
"It was a lot of fun," he said. "It's all based on points per event, so even if someone scores a lot in one event, you can catch them on the other four."
Barnes won the 110 hurdles race in a time of 16.13, which is his fastest of the year. He also won the long jump, with a mark of 20-feet, 10 inches. His third victory of the pentathlon came in the 1,500. He ran 4:53.05 and won by four seconds.
"It was right up his alley," coach Mike Spielman said. "You could tell that he had some experience and the others didn't. He ran a tremendous hurdle race."
Barnes finished fourth in the shot put and high jump. He threw 33-3.25 in the shot put and cleared a height of 5-3.75 in the high jump. He was most proud of his first event.
"My hurdle race was probably the best, as far as times go," Barnes said. "There was a huge wind, but I ran well, too."
While Barnes enjoyed a successful meet, most of the BHS boys and girls teams didn't because of cold, rainy weather. There were some good performance, but the meet was stopped after the 100-meter dashes on Friday morning. Only a handful of races and field events were completed.
"On Saturday, we didn't get to compete in 11 events," BHS girls coach Ted Zuzzio said. "It was the right decision to call it, because the conditions weren't advantageous for track and field. It was a three or four layer thickness day. There wasn't anybody underneath the stands or in the stands Friday."
On Friday, senior Lyndsey Lober finished eighth in the elite 100-meter hurdles race as she ran 17.39.. Fellow senior Ramie Burkhart won the Class 4A-6A 100 hurdles race in a time of 17.58.
Seniors Samantha Meisenheimer and Myranda Behrens placed fifth and eighth in the 100-meter dash. They ran 13.77 and 13.89 in the race. BHS sophomore Max Combest finished fourth in the 100 dash in a time of 11.79.
"What we did get to get in, our kids battled the elements and competed," Zuzzio said. "That makes you proud."
Both BHS 3,200-meter relay teams competed in the elite division. The girls team finished runner-up to Edmond (Okla.) Santa Fe. BHS ran 10:34.24. Sophomore Kaitlyn Barnes joined her brother in Washington D.C. and was unable to compete Friday. Sophomore Monica Howard replaced her and joined junior Elizabeth Sigvaldon, junior Carol Whaley and freshman Morgan Lober on the relay team.
"We were missing Barnes, but we were still only two seconds from winning it," Zuzzio said. "We were right there. Finishing second in the elite race was cool."
The BHS boys relay finished fifth in a time of 8:48.6. The relay members were junior Brian Wright, senior Tony Weiss, junior Tosh Mihesuah and senior Kyle Garcia.
Baldwin also competed in the distance races Thursday night. Wright finished third in the elite 1,600-meter run as he ran 4:33.23, just one second behind the winner.
Freshman Ethan Hartzell placed sixth in the 4A-6A 3,200-meter run. He ran a personal best 10:20.9 after losing one of his shoes early in the race. Weiss competed in the elite 3,200 and finished 13th, running 10:31.l3.
"Brian ran a great mile on Thursday night," Spielman said. "Then Tony and Ethan ran well in the two mile. Ethan ran six-and-a-half laps without one of his shoes, but he still ran his fastest time ever."
Mihesuah finished runner-up in the 2,000-meter steeplechase. His time was 6:46.66. In the girls races, K. Barnes finished eighth in the elite 1,600 run (5:34.78) and freshman Hannah Hutton placed fourth in the 4A-6A 1,600 (5:40.5). Sophomore Sienna Durr finished ninth in the elite 3,200 (12:24.02).
"I was very happy with how we competed," Spielman said. "It wasn't the best weather on Thursday night or Friday, but we did a nice job of getting in there and running well."
In the girls steeplechase, freshman Katie Jones and junior Abi Hartzell finished second and third. They ran 8:17.73 and 8:21.45.
"The great part was we were competing extremely well," Zuzzio said. "In fierce wind, our two steeplechase girls ran their best times. They did a great job of battling the elements."
Both BHS teams will be busy this week. The Bulldogs will compete at Eudora today, at the Kansas Relays Friday and Saturday and at Spring Hill on Monday.
"We're looking forward to going to Eudora, because the league meet will be there this year," Zuzzio said. "They have a brand-new track so we are anxious to see it and compete at their new facility."