Big changes coming to Saturday's Easter event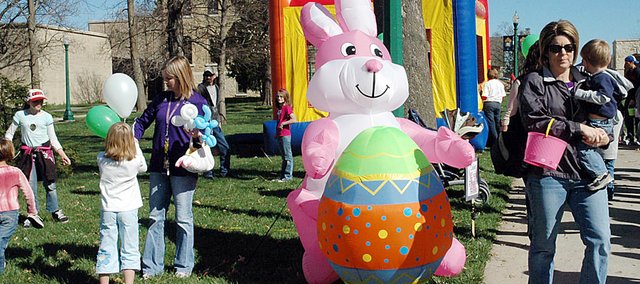 Rainbow Experience Preschool's annual Easter weekend festivities will be Saturday, but there are big changes to this year's event.
Those changes include location and the absence of two of the biggest festivities. The event will begin at 9 a.m. and will be in the parking lot south of Baldwin State Bank, which is south of the Eighth and High streets intersection.
"We made lots of changes to this year's event," REP Director Jill Venable said. "We hope people will be receptive to the changes this year. We will see how successful it is."
The major change to this year's event is there will be no egg hunt. But children will still receive treats.
"We had a few complaints last year and in an effort to make sure every child gets an equal amount, we will be giving away the candy and prizes," Venable said. "This is the first year we've done it this way, so we're going to see what kind of turnout we get. Then we will reassess it for next year."
There will be other changes, as well.
"There won't be a silent auction this year," Venable said. "Instead, we will be having a raffle drawing for prizes."
There still will be plenty of festivities for children and families with games, balloon art, face painting and the Easter Bunny arriving for pictures with children.
"We will be doing everything we've had in the past, minus the egg hunt," Venable said. "We will have the Easter Bunny will be there giving out treats to those kids who take a photo with him."
Two new events to this year's festivities will be the 5-kilometer run and the one-mile walk. The check-in for the 5K run will begin at 7 a.m. with the race starting at 8 a.m. The entry fee is $30 for a couple and $20 for an individual. The entry fee includes a t-shirt and breakfast.
The walk will begin after the run finishes. Families are encouraged to participate in the free walk.
For more information, call the preschool at (785) 594-2223.