BHS

baseball team earns first victories of 2011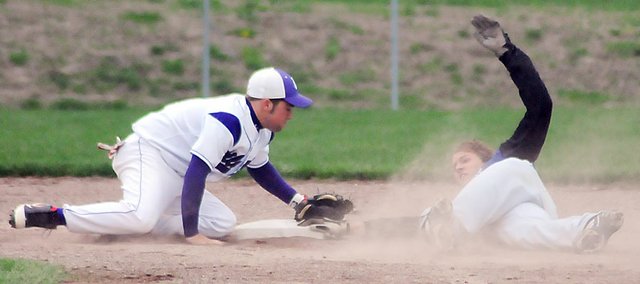 Baldwin High School's baseball team is no longer winless.
After a few close games, including the seventh inning meltdown last week, the Bulldogs earned their first victory. The Bulldogs (2-9) won two of three games Monday and Tuesday.
"It was a relief," senior Justin Vander Tuig said. "We'd played a few close games that we hadn't been able to win yet. It was nice to get that first one out of the way."
On Monday, Baldwin traveled to Tonganoxie for a single game. The Bulldogs left with an 11-8 victory — their first of the season.
"It's a big monkey off of our back," coach Brian Turk said. "I'm really proud of our kids. They played extremely focused and competed well for seven innings against a pretty good Tonganoxie team. Justin and Kyle pitched well. They pitched efficiently. We had that one big inning that teams do to us, but we finally put it on someone else. We rallied and opened up the game a bit. Then Kyle came in and shut it down. It was a great performance for us."
Relief was the main word used by the Bulldogs when talking about the first victory.
"It felt really good to get that first win out of the way finally," Vander Tuig said. "Tonganoxie is a pretty good baseball team, so it was nice to get that first win against a good team."
Tonganoxie started the game with three runs in the first inning. Baldwin responded with three runs in the second inning, tying the game. Senior Will Von Bargen, freshman Colton Stark and sophomore Tyler Cawley each scored for BHS. Each team scored a single run in the third inning. Senior Josh Hoffman scored for Baldwin.
The Bulldogs blew the game open in the fourth inning. After two quick outs, Baldwin's bats came alive for a two-out rally. Senior Kyle Pattrick hit a solo home run to start the rally. Senior Nate Growcock, Hoffman, senior Jesse McDaniels, Vander Tuig and Stark all scored during the inning. BHS led 10-5 after the fourth inning.
Tonganoxie scored two runs in the fifth inning and one in the sixth to close the gap. Then Pattrick struck out two batters in the seventh, giving BHS an 11-8 victory.
"I felt pretty good yesterday," said Vander Tuig, who pitched through four innings Monday. "I was happy with how I pitched. Then Kyle came in and closed it up."
The Bulldogs' coach was happy to see his players grab the lead and hold on to it late Monday.
"It was a big relief," Turk said. "We needed it. It carried over to today. We played pretty well from the start. We have the problem of being content sometimes and thinking that once we're ahead, we can relax. We were ahead in game one early, but then they came back. We had to score some more runs to close the door."
On Tuesday, the Bulldogs hosted Louisburg for a doubleheader. The two Frontier League teams split, with Baldwin winning 9-4 before Louisburg won 13-3.
"We came out and got a win in the first game," Vander Tuig said. "That felt good. But then we had a bad inning in the second game again. That just killed us."
In the first game, BHS jumped out to a 4-0 lead in the first inning. Cawley, Pattrick and Growcock were walked to start the bottom half of the inning. Hoffman hit a two-run double and Stark's sacrifice scored two more runs.
Louisburg closed the gap with two runs in the third and fifth innings. Baldwin added one in the third as it took a 5-4 lead into the sixth inning.
Vander Tuig kicked off the sixth with a double as he slid into to second base, narrowly avoiding the tag. Junior Hunter Burkhart, Von Bargen and Cawley also recorded hits and runs in the inning.
"It was definitely nice to get a few more runs on the board," Vander Tuig said. "We've let a few leads go so it's good to have those insurance runs."
In the second game, Baldwin took a 3-0 lead after the second inning. Then struggled in the third inning as Louisburg scored 11 runs, 10 of which came with zero outs.
"In game two, we jumped ahead," Turk said. "Then we had the one big inning that killed ourselves. When we're mentally focused, we're very solid. We're just trying to get the guys to learn how to prepare and get in that spot game after game."
Baldwin will play Anderson County in a single game at home tonight. On Tuesday, BHS will host Paola in a doubleheader.
"We have a few home games coming up, which is nice," Turk said. "The guys like playing at home."