Baldwin High
RWDC

team finished third at nationals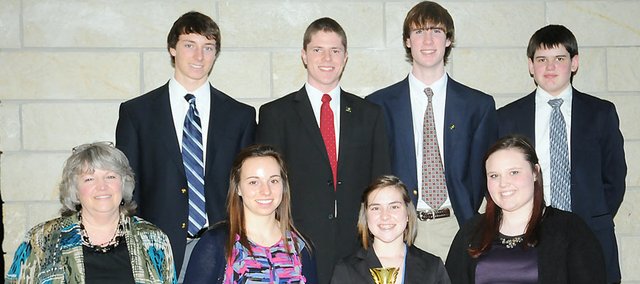 Baldwin High School's Real World Design Challenge team members believe outdid last year's effort even if they didn't capture a second-straight national championship.
The group of seven BHS students, faculty member and mentor all hoped that they would return from Washington, D.C., with a second championship. It wasn't to be this year.
A school from Connecticut won the 2011 national title, while a school from Washington finished runner-up. Baldwin placed third in the contest, which still earned the group several trophies.
"I was happy to finish third," sophomore Austin Kraus said. "It was a good challenge and the teams that finished ahead of us were good. According to one of our inside sources, the judges' votes were very, very close."
The rest of the Baldwin High group agreed finishing third was thrilling rather than disappointing.
"Making the finals was very gratifying," senior Brandon Baltzell said. "It meant that all of our hard work paid off. We got to present in the Imax theater in the Smithsonian Air and Space Museum. It was a really fun experience. The other finalists had great presentations. I had no idea what the judges were going to decide after we had all presented. I was very happy to finish third. Out of the 450 or so teams that began the challenge, it is nice to be in the top three.
"Going into the competition we were confident with our solution. We had no idea the competition would be so tough. It would have been nice to repeat as national champions but there is not much I would change if I were given the chance. The judges just decided they liked the other presentations a little bit better."
The group from Baldwin, which is the three-time defending state champion in the engineering contest, made its presentation on Saturday. The three finalists were announced that afternoon and they all presented to a new group of judges in the National Air and Space Museum, which is where Baldwin won its national title a year ago.
For the final presentation, each school had to cut its production from 20 minutes to 15. Missing the finals wasn't an option the Bulldogs considered.
"We thought we'd make finals, because we had a good idea of the competition this year," senior Carson Barnes said. "Once we made finals, we had no idea where we would finish, because all three teams were really close."
When the awards were ready to be distributed, the Baldwin High students were hoping their name would be called last like it was last year when they beat a school from Hawaii, who was the defending champion. However, BHS was the first school called to the stage.
"It wasn't quite like being named the national champions," Barnes said. "However, it was still awesome. We didn't jump for joy, because we were the first team called out of three and we knew we were already in the top three."
The entire Baldwin High team headed to the stage to be honored. The seven-team members are sophomores Kaitlyn Barnes, Carrie Deitz, Mac Halpin and Mackenzie Johnson, along with C. Barnes, Baltzell and Kraus. The faculty member on the team is Pam Davis and Sandy Barnes is the team's mentor. K. Barnes and Johnson were the new members to the squad this year.
"It was really exciting," K. Barnes said. "I wasn't sure what to expect. Surprisingly, it wasn't as nerve racking as I thought it would be. It felt kind of natural actually, which was good."
She also enjoyed her first trip to the nation's capital.
"I really liked it," K. Barnes said. "I really liked the city and being able to be a part of what's going on. It was really neat to present in the Air and Space Museum."
For the rest of the team, it was another great experience that they won't soon forget.
"It was awesome," C. Barnes said. "It was just as much fun as last year. I think the work we did was actually better, but the competition keeps getting harder and harder. It was probably better than last year as far as how they organized it. Presenting at the Air and Space Museum never gets old."
For some of the team members, this year was more enjoyable because they participated more than they did their freshman year.
"I did more of the research aspect of the challenge this year," Kraus said. "For this challenge, it was pretty important, because we were dealing with much more dynamic principles of aerodynamics. I enjoyed it a bit more this year, because I had one year of experience and I was able to help more."
For Baltzell, it's been two incredible years of life experience.
"The trip was a blast," he said. "We made a point to get to know the other teams. Between the National Mall and the other young engineers we spent time with, we had great fun. The Real World Design Challenge has been a great experience over the last two years. I am very grateful for the opportunities it has offered me and the experience in problem solving I have gained."
The RWDC is an annual competition that provides high school students grades 9-12 the opportunity to work on real world engineering challenges in a team environment. Each year, the teams are asked to address a challenge confronting a leading industry.
This year's challenge was to use aeroelastic tailoring to design the exterior geometry and interior structure of an airliner wing in a manner that maximizes both fuel efficiency and aerodynamic efficiency.