Young girl's big heart gets results at
BESPC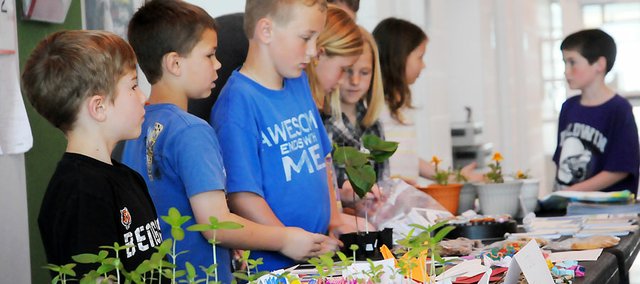 Maiya Evans has an interest in helping animals and fellow humans and it's already showing at nine years of age.
As a third-grader at Baldwin Elementary School Primary Center, Evans has donated money and supplies to the Lawrence Humane Society and the American Red Cross relief effort for Japan. All of this has happened the past two months.
Evans' ideas for generosity began in February. In a scholastic magazine, she read an article about dogs and cats that are taken to humane shelters. It immediately sparked her interest. At dinner that night, she talked to her parents about ways she could help animals needing assistance.
"I really like animals, so I wanted to help the animals," Maiya said. "We had a big talk over dinner, and I told them I wanted to help animals. First, I wanted to help the dolphins, but my mom said maybe I should start doing local stuff first. So I called the humane society, but they said I was too young, so I asked what else I could do to help."
Maiya called the Lawrence Humane Society and volunteered to walk dogs, but their age limit is 11. She wasn't about to be denied.
That weekend, Maiya and her parents drove to Lawrence and picked up a wish list, which included items the humane society needed. She also wrote a letter to BESPC Principal Deb Ehling-Gwin and her teacher, Sara Oberheide, explaining how she wanted to do a schoolwide project to help the humane society.
Her project was scaled down to just Oberheide's students. They donated boxes and boxes of office supplies, toys, cat litter and cleaning supplies during the next month.
"I wasn't surprised," said Jill Evans, Maiya's mother. "Maiya has always wanted to be a helper. We volunteer at our church and she is always upset when we can't help. I work at a veterinary clinic and she comes and walks dogs with me, so it didn't surprise me. I did think it was great that she called the humane society herself and she wrote the letter herself. I'm very proud of her for wanting to take on a project of that size."
The classroom supply boxes were only the beginning of Maiya' donations to places in need. After Japan was rocked by the March earthquake and tsunami, Evans' class read a book about disasters. Later that day at recess, Maiya and her classmate Lily Beach devised a plan to raise money for the American Red Cross relief efforts in Japan.
"At recess, I told her we should be raising some money for Japan," Maiya said. "She said that would be a good idea. I asked her what we should do, maybe brownie sale, lemonade stand, dog walking or cleaning up yards. She said, 'we both like dogs, so maybe dog walking.'"
They passed out flyers and talked to their neighbors about walking their dogs. Staring March 26, the girls walked five different dogs, but unfortunately, the weather didn't cooperate on the first day.
"We walked for over an hour," Maiya said. "It started snowing when I was walking my last dog. We walked five different dogs that day. One of neighbor's dog can't walk, so they went inside and brushed it for 10 minutes."
Their neighbors paid them $1 for 10 minutes or $2 for 20 minutes of walking. The girls provided the leashes, harnesses and treats for the walking service.
"They had a couple people who told them they enjoy walking their own dog, but they gave them a donation anyway," said her father Steve.
One of Maiya's neighbor donated $101 to their fundraiser. Both girls have been walking dogs during the week and on the weekend during the past two weeks. They have raised $203.60 through their dog-walking fundraiser for the American Red Cross.
Maiya and her father, Steve, did joke that some of the dogs weigh the same or more than the girls do. One Labrador retriever wears a leash that is attached to Maiya around her back.
"So if she starts running off, she'll drag me with her," she said while laughing.
"It's to make sure the dog can't get lost," Maiya's father said. "The dog can't run, but it can drag her down the street. But they are good dogs."
While the dog walking has helped the American Red Cross, Maiya's classmates at BESPC are also raising money for the Lawrence Humane Society, on top of her boxes of supplies that were donated. After spring break, the third-graders at BESPC have set up a store during lunch hours.
The store is open every Wednesday during lunch. Some of the items for sale include humane society calendars, cookies, brownies, gems, bracelets and student crafts. Each item ranges in price from 25 cents to a few dollars.
The BESPC third-graders raised $300 for the Lawrence Humane Society in the first two weeks of the drive. The store will run through April and possibly into May.
"I think they are going to do the store through the first weekend in May," Jill Evans said. "Then we are working on having the humane society come here so the kids gave do a presentation and give the money to them. We're trying to have an assembly early in May."