USD

School Board considering cutting busing inside city limits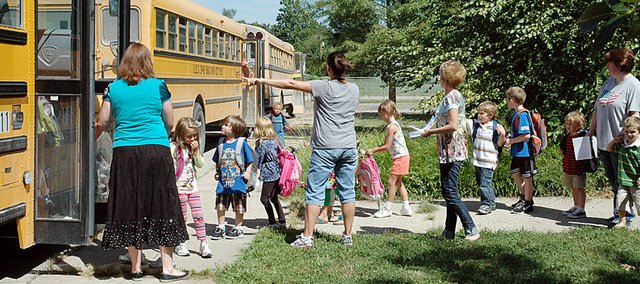 Any USD 348 student who rides the bus to school and lives in the Baldwin City limits might have to find a different way to school next year.
No decision was made regarding in-town transportation for the 2011-2012 school year at Monday's USD 348 Board of Education meeting. However, the district's transportation committee has recommended that the board stop providing busing for students who live inside Baldwin's city limits.
Superintendent Paul Dorathy made the announcement near the end of Monday's meeting.
"The committee is recommending that we cut all transportation within the city limits of Baldwin City," Dorathy said. "That would affect quite a few riders. That would save us between $20,000 and $30,000."
The transportation committee has been looking at all of the issues regarding transportation within the district, including routes, number of pickups, sending students home with other students and whether or not to charging for bus service. More recommendations might come later, but eliminating service within the city limits will come before the board at the May 9 meeting.
"It would be nice to have a decision by May, but maybe that's too quick," Dorathy said. "It would be nice to let people know before they leave before the summer."
Before a decision is made, Board member Scott Lauridsen, who serves on the committee, suggested the board have a public meeting to hear from patrons regarding this recommendation.
The board set the meeting for 7 p.m. Monday at the District Office. Patrons will be able to come voice their opinions regarding the committee's recommendation, as well as other transportation topics.
During its meeting, the committee discussed not allowing busing for students living within 2.5 miles from their school. The state reimburses the school district for riders who live more than 2.5 miles from their attendance center.
Although the idea was discussed, Dorathy said it wasn't given much thought.
"They wanted a more definitive line," Dorathy said. "Right or wrong, the definitive line is the city limits, which is a definite line."
Tracy Rockers, district transportation director, said an average of about 340 in-town students rode district buses to and/or from school each day. That number doesn't include rural students dropped off at in-town baby sitters in the afternoon, she said.