Spring Hill's late rally keeps
BHS

baseball winless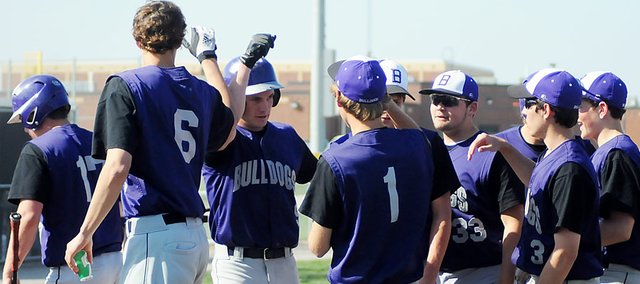 Baldwin High School's baseball team came one out away from earning its first victory of the season during its home opener Tuesday night.
Unfortunately, that third and final out of the seventh inning came too late. Spring Hill rallied and scored four runs on two outs in the top of the inning to take a one-run lead.
The Bulldogs had their chance to tie the game or take the lead in the bottom half of the inning. However, that run never came and the Bulldogs fell to 0-8 on the season.
"Right now, we're competing better," said first-year coach Brian Turk said. "We told them we wanted them to compete better and we're doing that in spurts. We did a pretty job in game two. Justin (Vander Tuig) pitched his tail off that game. We had a couple of unfortunate plays and when it rains, it pours sometimes.
"We can't figure out how to get over that hump," he said. "It's something that we've got to learn how to do. We've go to learn how to win. There's sometime to that. Spring Hill played in the state championship, so they know what it's like to be in big games and win. We've struggled a little bit and we don't know how to close the door. It happens, but we just have to keep battling."
Baldwin led 5-1 heading into the seventh inning. After allowing one run, BHS recorded the second out of the inning. Then the Broncos hit a line drive to right field that was misplayed by the Bulldogs. Later in the inning, a ground ball up the middle was misjudged by the Bulldogs, earning them two errors in the final inning.
"We had two outs in the last inning, but we couldn't get out of it," Turk said. "It's just one of those things we are struggling with right now. We'll figure it out. Everybody gets too tense and tight. We don't want the ball. Everybody wants it to happen, but they don't want step up and make it happen. We'll learn and we'll get better at it."
In the bottom of the inning, Baldwin had runners on first and second base with one out. Then the next two batters struck out, ending the game. Spring Hill won 6-5.
Three Bulldogs recorded doubles during the game. They were seniors Jesse McDaniels, Kyle Pattrick and Justin Vander Tuig. McDaniels, Vander Tuig, senior Tyler Brenn and junior Hunter Burkhart all scored runs for the Bulldogs.
In the first game, Baldwin and Spring Hill played a tight-knit game for the first three innings, before Spring Hill broke it open. However, Baldwin came storming back in the seventh inning, only to fall short, losing 11-9.
Baldwin scored five runs in the seventh inning. They were scored by senior Nate Growcock, McDaniels, Vander Tuig, Burkhart and freshman Colton Stark. BHS had the bases loaded, but another strikeout ended the game.
"We had a little rally of our own in the seventh," Turk said. "We also did a couple things that beat ourselves and we ended the rally shorter than it should have ended."
Spring Hill scored four runs in the sixth inning to build its 10-4 lead. Baldwin senior Josh Hoffman hit a two-run home run during the first inning to tie the game at 2-2.
Baldwin will next play a single game Monday at Tonganoxie and a doubleheader Tuesday at home against Louisburg. BHS will be looking for its first win next week.
"We've just to quit beating ourselves and we'll get there," Turk said. "We dig too many little holes. I told the guys we are probably 0-4 against our opponents and probably 0-4 against Baldwin, because we've probably cost ourselves four games by making very big mental mistakes."