Founding members return for ceremony marking Baker diversity group's 31st year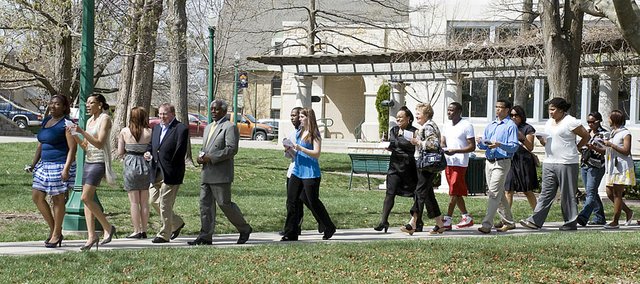 The past and the present of Baker University's Mungano organization joined together at 2 p.m. Sunday at the Osborme Memorial Chapel for the 31st annual Candlelight Vigil.
Cheryl Brown Henderson, president of the Brown versus Board of Education National Historic Site and Baker alumna from 1972, was the featured speaker at the vigil for the multicultural organization. Mungano adviser Silas Dulan took a group to visit the Brown versus Board of Education site last spring, which is where he first met Brown Henderson.
"She's a piece of American history, not just Baker history, but American history," Dulan said.
Jesse Milan and John Njoroge, who are credited as the "founding fathers" of the organization, were also honored at the vigil. Milan was the first African-American professor at Baker, and formed the group in 1969 as the first adviser. Njoroge, who was a Baker alumnus from 1966, named the organization. Dulan said he picked the word Mungano from the Swahili phrase "Mungano Wa Wanafunzi Weuzi," which translates to "brothers and sisters united."
"When you have founding fathers such as Mr. Njoroge and Dr. Milan come back, they can express their vision of what they had in the past and make sure that we're still trying to meet that vision," Dulan said.
The vigil was held to celebrate those who participated in the Civil Rights movement. Those in attendance walked across Baker's campus to symbolize the freedom they have and recognizing that freedom was not always available.
"Our generation are what's reaping the benefits of what happened so many years ago and a lot of generations that came after that don't really appreciate the things our ancestors went through," Dulan said.
Along with honoring the past, the organization also looked to the future by inducting the officers for the 2011-2012 school year.
Milan believes it is important to share the history of Mungano in order for the current students to continue to move the organization forward.
"If you don't know your history, you don't know where you're going," Milan said. "If you don't know what from which you come, you have no idea where you're going."
Dulan has attended seven or eight vigils throughout his time as a Mungano member and adviser and said this was the largest crowd he has seen. The group has been in existence for more than 40 years, and Milan is happy to see his dream has been continued.
"I'm very grateful for these kids taking Mungano. They could have let it go down," Milan said. "They didn't have to save it, but they see something more than just an organization."