Brungardt's leadoff run propels
BHS

softball split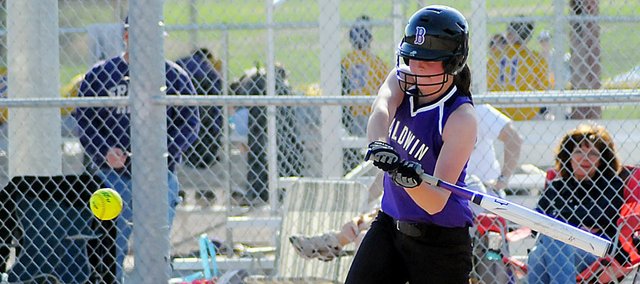 Little did she know, but Madeline Brungardt's first-inning heroics would help the Baldwin High School softball team ends it's five-game losing streak.
The BHS junior scored the only run in the second game of Tuesday's doubleheader at home. BHS (3-5) beat Spring Hill 1-0 after losing 5-4 in the opener.
"We probably should have won that first game," Brungardt said. "We came out a bit flat, but we came back and won the second game, which was good. We just need to work a little harder coming out psyched up and ready to play."
BHS held Spring Hill scoreless in the top half of the first inning. Brungardt led off the Bulldogs' half of the inning with a deep shot to right-center field.
She recorded a triple on the hit, but as Broncos' second baseman dropped the relay throw and had trouble finding the ball immediately. Using her instincts, Brungardt darted home and scored the first run of the game.
"It was exciting," Brungardt said. "It was nice to start off the game that way. I really wish we could have finished it out stronger. Still winning 1-0 and holding on to that lead was great. I had no idea that would be the only one. I'm kind of glad I scored that one."
Her coach was happy, too.
"If not for Madeline, we'd still be playing," Ginger Crist said. "We couldn't adjust to hitting. We need to go back to the tees, because we were under everything tonight. Spring Hill's outfield played well tonight."
Spring Hill threatened in the top of the seventh inning. The Broncos loaded the bases, but a short pop fly in the infield ended the game. Baldwin won its first game since sweeping Wellsville on opening night, March 28.
"It was important to come back and get a victory after not playing so well in the first game," Crist said. "We needed that win."
The BHS players agreed with their coach on the importance of the victory.
"We needed to come out with a win to get our confidence boosted," sophomore Katie Pattrick said. "In the first game, mental errors cost us. We just need to come out and get our heads in the game."
Pattrick pitched all seven innings of the second game. It was her first shutout victory as a Bulldog.
"Katie Pattrick has come in and done a great job pitching for us," Crist said. "She's hitting her spots. She's doing great."
In the opening game, Baldwin led early, but couldn't close the deal. Pattrick scored a run in the second inning to give BHS a 1-0 lead. Sophomore Kaitlin Jorgensen hit the RBI single to score Pattrick, who got on base after being hit by a pitch.
Pattrick came back in the fourth inning and hit an RBI single that scored freshman Madeline McCrary, who was base running for senior catcher Kyla Good.
Baldwin's 2-0 lead didn't last long. Spring Hill tied the game in the fifth inning. Neither team was able to score in the final two innings, despite runners on base.
In the eighth inning, Spring Hill's first three batters crossed the plate, giving the Broncos a 5-2 lead. Baldwin rallied with two runs from senior Karlee Beach and McCrary. Then the rally fell short and BHS lost 5-4.
"Yeah, we almost came back," Brungardt said. "I feel like if we had one more hit, we could have won it."
The Bulldogs' coach said mental errors doomed BHS.
"We started out well, but we kind of went dead after the first couple of innings," Crist said. "We had a few minor errors that we could have lived with early in the game. Toward the end of the game when we had a few more they cost us. It's the little things that are hurting us."
The Baldwin players hope the one victory will give them confidence heading into next week. BHS hosts Louisburg Tuesday.
"This will help us regain some confidence," Brungardt said. "It's always nice to win. Everybody enjoys winning. We just need to work hard this week and get ready to play Louisburg next week."