Baldwin City still competitive in Take Charge Challenge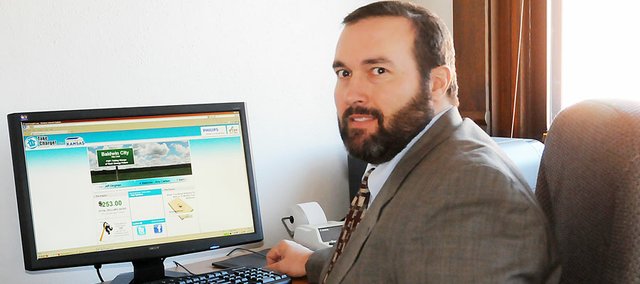 While citizens of Baldwin City could be saving money through the Take Charge! Challenge, the city could be winning money.
The Take Charge! Challenge began Jan. 1 and is a competition between 16 Kansas cities to reduce energy use. The cities are judged through three categories to see who can record the most energy savings. The categories are energy audits approved through Efficiency Kansas, switching out the most energy-efficient light bulbs and holding community educational events. The competition ends Sept. 30.
"Of course going into it you wonder how hard it's going to be, and after the first quarter you realize it's going to be pretty tough because it's a constant message and how much time do you spend on it every day when we have other things that we're doing too and everybody that's involved in it is a volunteer," City Administrator Jeff Dingman said.
The winner of the competition will receive a $100,000 grant to go toward a project to better the energy use in that city. Dingman said the city has not yet decided what project the $100,000 would be put toward if Baldwin City won the competition.
In a press release by Efficiency Kansas Monday, a reported 10 billion BTUs (British Thermal Units) were saved by all 16 cities, as of March 15, since the competition began. This equals energy savings of $232,000.
"I think there has been an effort made form all levels of government to make people recognize that this is a place where you're spending a monthly amount of money," Dingman said. "And if you can reduce that monthly amount by doing some relatively minor investment, I think people do notice it."
Baldwin City alone switched to 1,223 more efficient light bulbs so far from Jan. 1 to March 15. In the northeast region alone, which consists of Baldwin City, Gardner, Ottawa and Paola, more than $40,000 has been saved in natural gas and electricity costs.
Dingman said the difficulty lies in presenting the information regarding energy efficiency consistently over nine months, but also in a way to keep the people's interest over that time. The Baldwin City leadership team for the competition has tried to include the competition in other city events, such as having a booth at the recent Community Wellness Festival.
"People are interested in the project that we're doing," Dingman said. "When you can get them to stop and listen to what you're saying, they can really get it, but if you can't get there attention right off the bat, you've missed an opportunity."
Efficiency Kansas reported as of March 15, the northeast region lead was too close to be determined. Baldwin City was leading the community outreach section of the competition, was second in light bulb switches and third in energy audits approved.
Dingman hopes the city can remain close to the top of the competition to keep the people's interest high.
"I think we're close enough to think that we could win and there's still definitely interest on the part of our leadership team and yeah, we can still do this," Dingman said.