Voters opt for new faces on city council, school board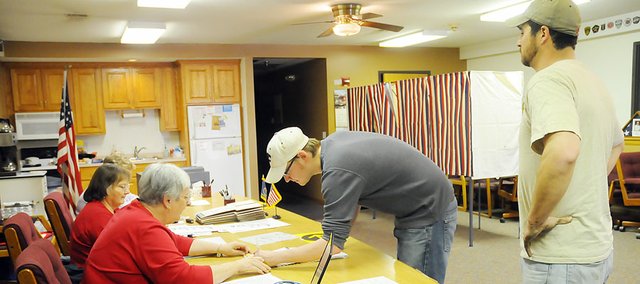 Baldwin City and USD 348 voters decided they want new representation for the next four years.
Unofficial totals from Tuesday's election indicate four new members will take their on the USD 348 Board of Education and three new members to the Baldwin City Council. Some of the races were very close, but the winners were happy Tuesday night.
The election tallies won't be official until Monday when Douglas County Commissioners canvas results and at least two races were close enough to be changed if provisional ballots are added to the totals at that time.
Douglas County Clerk Jamie Shew said there were seven provisional ballots from Baldwin City precincts and three from rural precincts, which may or may not be USD 348 ballots.
Still, those who safely prevailed Tuesday were relieved and looking ahead.
"I'm happy and relieved it's over," said Tony Wedel, who will be replacing Josh Mihesuah as the at-large candidate on the school board. "Now, the truly hard part begins."
Chad Christie, elected to the position No. 3 seat over Slade Dillon, admitted he was worried after the first precincts reported their results.
"I'm very excited," Christie said. "I was a little nervous at first, because I was losing when the early results came in. I'm ready to jump in and see if I can turn some things around."
The same feelings were felt by the city council candidates.
"It's a little bit of a relief," said Shane Starkey, who appears to have won a seat on the city council. "I'm just excited I have the opportunity to help the city in the next four years."
Relief could describe Jason Mock's feelings Tuesday night. The 2004 Baldwin High School graduate won a seat on the council Tuesday after running in 2005 and 2007.
"Yep, third time's a charm," Mock said. "It's a nice honor to be elected this year.
"I am surprised I got the most votes. Not trying to sound conceited, but I am not surprised I won a seat on the city council, but I am surprised I am the highest vote getter."
Mock racked up the most votes in all three city precincts with a total of 354, good for 31 percent of the total votes. Coy Weege came in second with nearly 27 percent of the vote, 307 in all. Starkey nabbed the last council seat by edging out Kenneth Hayes by just two votes, 241-239.
"This is pretty exciting," Weege said. "I was watching the results come in all around town. I had a watch party, but I was a couple different places and watching all of the races."
In the City Council race's three precincts, voter turnout was 14.6 percent at Baldwin Elementary School, which has the most registered voters with 1,500. Nineteen percent of the 1,240 voters registered at Baldwin City Fire Station turned out, along with 19.7 percent of voters at the Baldwin City American Legion, where 1,368 voters are registered.
"It's always going to be lower than the state or national election, because there are different races," said Jamie Shew. "An April election will never have the same amount of participation as a November election."
In the school board election, Nick Harris defeated Shawn Nelson 614-358 to fill the District 1 position on the city's school board.
"It's not a major election to most people, but when you're looking at replacing four people on a school board and three on the city council, I think it is a major election," Harris said. "This is setting the standard for what's going to happen for the next four years."
Sandy Chapman apparently edged out Ed Kite 436-430 to take the District 2 position. John Dunbar finished last in that race with 126 votes.
"It's very, very close," Chapman said. "I'm very happy if these results are final. I'm happy to serve Baldwin and USD 348. Ed Kite and John Dunbar are good candidates as well, so any of us would have been a good fit for the job."
The District 3 position went to Chad Christie, who defeated Slade Dillon 565-435. Wedel earned the at-large position with 427 votes, which was 42.9 percent of the total. Wedel defeated incumbent Mihesuah (354 votes) and Robin Bayer (213).
Results remain unofficial until certified by Douglas County commissioners, who meet at 9 a.m. Monday to review vote totals and consider 107 countywide provisional ballots.