USD

348 student art work on display at

LAC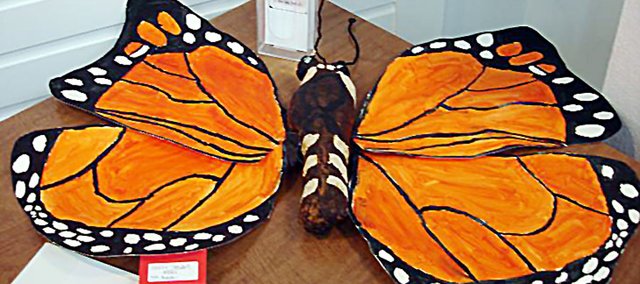 For six weeks, Baldwin City students from the preschool to high school levels will have a new place to show off their artwork outside of the walls of the school.
The Lumberyard Art Center is hosting USD 348 student artwork from April 1 to May 14. This is the second year students have been featured at the Lumberyard. Last year, each school had its own separate show for two weeks, but to ensure all the schools to be on display before the end of the school year, the schools were combined.
"I think this is one of the reasons that we're here," said Sandy Cardens, Lumberyard Art Center gallery coordinator. "Is to provide a place for these kids to show what they do, what they've done, instead of just, it goes in your desk drawer. It's just not as satisfying as if you can see it here."
The students have a variety of art forms on display, from photographs, paintings and 3D art, such as papier-måché. Because of space constraints, not every student was able to have work on display.
Marsene Feldt, Baldwin Junior High art teacher, also has her seventh graders' drawings and origami work on display at the Baldwin City Public Library throughout April along with having art at the Lumberyard
Feldt said the students were excited to have their work shown to the public.
"They're very proud, their families are proud, the teachers are proud because we know that they've been working really hard to get really nice art created," Feldt said.
Feldt said hundreds of people attended the display opening at 6 p.m. Friday, which made her pleasantly surprised. Along with families of the students, some who attended the opening did not have children in the show but just came to participate and give support.
"The kids who came to the art opening, or the ones who maybe weren't able to, but yet know that their art is there, are very excited because they know it is a chance for them to let the public see what they've been doing," Feldt said.
Rainbow Experience Preschool also contributed work for the first time this year. Two classes presented art based of the story "The Very Hungry Caterpillar" and the other did a lesson on secondary colors and the mixing of colors. Last year, the preschoolers' work was displayed at Baldwin State Bank, MidAmerica Bank and the Baldwin Academy of Dance.
"I'm very impressed with the Lumberyard Art Center as it is," Director Jill Venable said, "and just the fact that we're such a small town and we have a facility like that for the public to enjoy, I mean, hopefully we can continue doing this like as an annual sort of event."