Spring Cabaret shows set for this weekend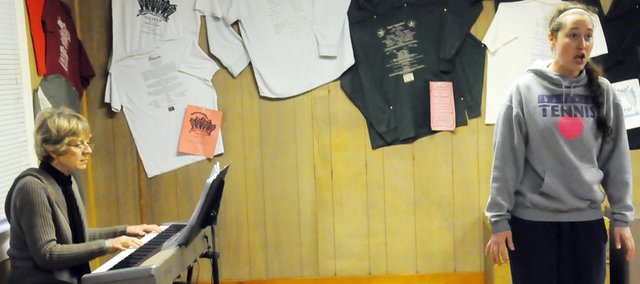 Joe Bathke performed "The Baseball Game" song from the musical "You're a Good Man, Charlie Brown" when he was in high school and is now getting the opportunity to perform the song again 26 years later.
Bathke is performing at the spring cabaret, produced by the Baldwin City Community Theater. While a spring cabaret has been produced since 2001, this is the first time it has been a Baldwin City Community Theater production.
The first cabaret was a benefit for the Baldwin City Community Theater in March 2001 at The Lodge, which Mary Baker and Jan Cooper directed, and has since then been performed in Ottawa and Vassar Playhouse as well.
"Since we've been away from Baldwin, we've had people from Baldwin say to us, 'I wish you would come back to Baldwin,'" Baker said. "And since we've been performing at Ottawa University, we've picked up a nice following down there."
Baker is directing this cabaret solo and this year has 15 cast members, which is the largest group the cabaret has had. The cast members come from all around the area, including Olathe, Shawnee, Gardner, Baldwin, Lawrence and Ottawa.
"We are a strong group and we all really like each other and kind of respect each other quite a bit," Bathke said.
The spring show includes parts of a show performed in October, while half of the cast was also in the October production. While this is the first cabaret for several performers, including Bathke, four cast members also were in the original cabaret 10 years ago.
"Most of our performers have had a lot of theatrical experience, but this is a different kind of production for them and they really enjoy this," Baker said.
The show will include songs from about 30 Broadway and movie shows and musicals, including "Oklahoma," "Chicago" and "Damn Yankees."
"I like to include good songs that people aren't as familiar with sometimes because many times after a show an audience member has come up to us and said, 'You know, I've never heard that song before, but I'm so glad I did,'" Baker said.
Bathke said each cast member was able to pick a couple of songs he or she was interested in performing and audition them. He believes picking songs the person is interested in helps enhance the performance.
"It definitely puts more passion, puts more energy to it and third, it motivates you, you know, to want to do a good job on it," Bathke said.
Bathke and the other cast members have been practicing since the auditions in February and are finding ways to make the show their own.
"There's been hundreds of people who have performed these songs before and you want to do your own thing to it, but you sort of watch what everyone else has done and you kind of take what's a good idea and then use that and kind of discard what won't work for you in a particular instance," Bathke said.
The performances will take place at 8 p.m. Friday and Saturday at The Lodge in Baldwin City. Tickets at the door are $15.